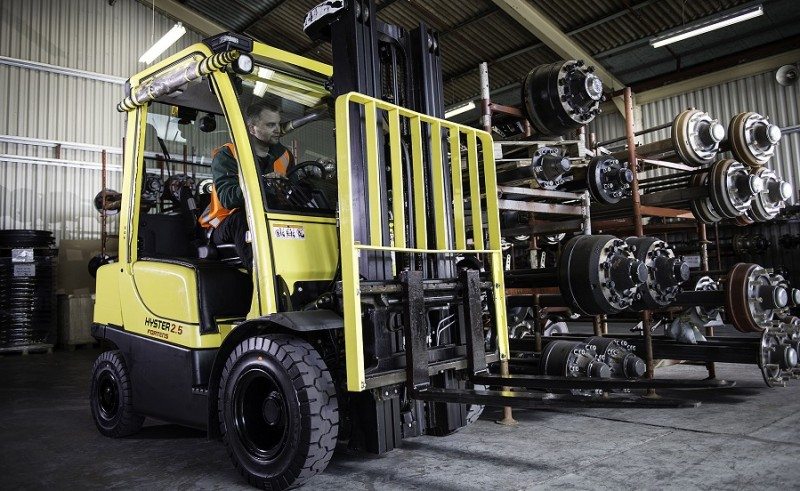 Trelleborg joins NTDA
Trelleborg Industrial and Construction Tyres has joined the NTDA both as a supplier member and as a full member under the UK network of centres in its 'Interfit' service division.
Trelleborg Industrial and Construction Tyres is a global manufacturer of premium quality tyres and has developed extensive product ranges to serve both solid and pneumatic tyre requirements within these sectors. The UK operation has two distinct channels with very different customer bases and varying requirements. A major part of the business is to supply and fit tyres through its Interfit service division, where the customer base predominantly consists of Forklift Truck manufacturers and their dealer networks. In addition, Trelleborg has developed a facility to supply tyres to the replacement market where the majority of customers in this channel are tyre dealers and distributors. Although the vast majority of products are fitted to Forklift trucks, it also supplies and fits tyres to ground support equipment such as airport vehicles, reach stackers and container handlers.
As well as taking a seat on the associations' Executive Council, Trelleborg has also become the latest big name to join the impressive line-up of Tyre Industry Award sponsors and Richard Lyons Trelleborg Industrial Tyres UK Ltd's managing director will be presenting the Staff Training and Development Initiative of the Year Award to the lucky winner at the NTDA Annual Dinner on 12 October.
Commenting on the membership Richard Lyons said: "With such a competitive market at this current time, our intentions for the future are very clear and that is to firmly cement ourselves as the UK market leader for industrial tyres. We will achieve this by continuing to provide the highest quality tyres available and by taking the same innovative approach into other areas of our business, leading the way in terms of strategy, customer service, marketing and routes to market. Joining the NTDA, therefore, is the a natural thing to do, as clearly the association now has the same progressive approach to raising industry standards and furthering the professionalism of our industry."
NTDA chief executive Stefan Hay said: "We are naturally very excited to have Trelleborg on board as its products have long been established in the UK Industrial sector as market leading. In recent years this area of the tyre Industry has become incredibly competitive and various lesser quality brands being sold into the market, at very low prices, certainly provide new challenges for us all. Furthermore, it is a well-known fact that Trelleborg is always striving to provide the end user with reliable, durable products. For example, the Elite XP Pit Stop Line, which is a tyre that tells you when it needs changing! Our membership growth, especially with regard to independent tyre retailers, has already been phenomenal this year, but this adds a whole new dimension."
Category: UK News