STARCO taking its solid tyres to the world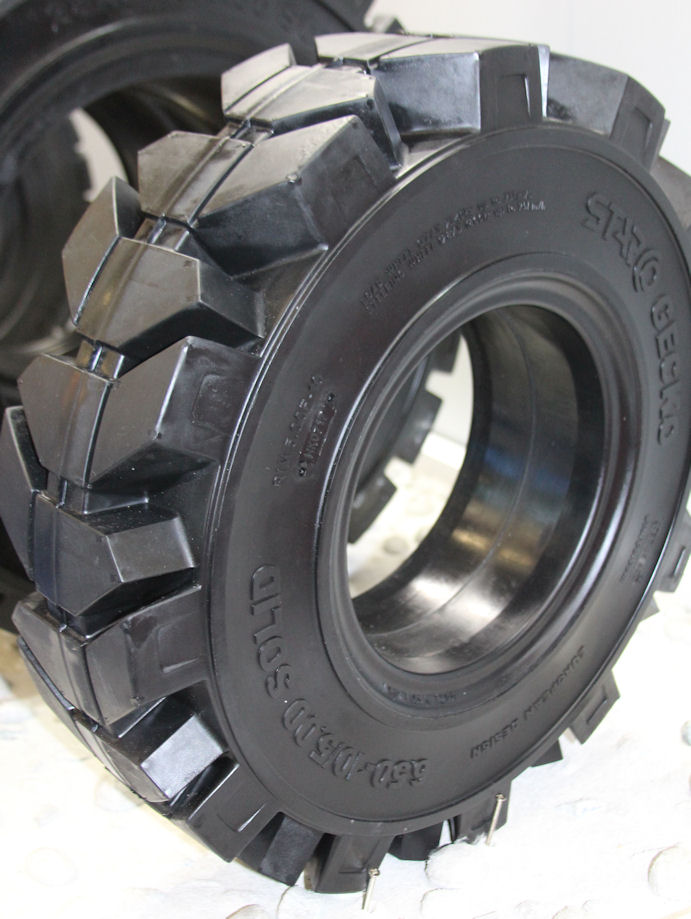 After six years of manufacturing solid tyres in Sri Lanka, STARCO is looking forward to expanding its distribution of these products globally. Tyres & Accessories recently spoke to Richard Todd, the company's chief executive officer; he shared that establishing relationships with distributors in Asia and the Middle East was currently a priority for STARCO.
Solid tyres are the company's principal focus outside of Europe, and the setting up of a distribution network for these products represents the next step in its development as a manufacturer. "We have good distribution in the Russian – including CIS – countries, South African and the European markets, both in terms of the collaboration with leading original equipment manufacturers and national distributors," he comments. "Now we want to find good contacts with a view towards setting up a new distribution network and finding new distributors, especially in Asia."
Annual output at the STARCO solid tyre factory in Sri Lanka currently sits at the 50,000-unit mark. While Richard Todd notes that this is a relatively small quantity for an FLT tyre manufacturer, the expectation is that output will increase in line with the continued rollout of a distribution network for these products: "Our strategy for Sri Lanka was to start off relatively small and get the right product and the right technology, and then to build the growth strategy. And that's very much what we're doing here in terms of trying to develop a much more global footprint from a distribution point of view." He adds that production capacity is currently around 50 to 60 per cent, and STARCO aims to lift this to 100 per cent over the next two to three years.
The STARCO solid FLT tyre range has for some time consisted of the Tusker, which was launched in 2006 and produced by an off-take manufacturer prior to the opening of the Sri Lanka plant in 2011, and the Unicorn, which was introduced in 2013. The 2-layer Unicorn is presently the company's best-selling solid tyre and is preferred in markets outside of Western Europe, where it is popular with operators working a single-shift format. Professional users in Western European markets prefer the 3-layer Tusker due to its greater suitability for use in multi-shift operations.
Now a third STARCO solid tyre has joined the portfolio. The Gecko is based upon the Unicorn, but offers a significant point of difference. "In a lot of markets, forklifts work both inside and outside, and demand existed for a product that could go outside even in snowy and muddy conditions. This demand came from the Russian market in particular," relates Todd. Instead of fitting chains to a tyre such as the Unicorn, which would limit the forklift to only operating outside, STARCO developed the Gecko with a deeper tread. Richard Todd says that in addition to providing traction during outside operation, the Gecko also operates very well inside.
"I suppose you could call this an off-road FLT tyre," adds the chief executive officer. "We're developing new dimensions for the Gecko at the moment. The first dimensions have been on the market for a year now and we've had very good feedback, especially from Russia, the market we primarily designed it for."
Refining compounds to combat rising costs
Raw material prices and the cost of natural rubber in particular have been a cause for concern within the tyre industry since late last year, and given the quantities of rubber required to produce a solid tyre it would be safe to assume that STARCO is worried about this trend. Yet this isn't the case. While the company is following developments with interest and Richard Todd confirms that STARCO has also been impacted to an extent by the effects of higher material prices, he shares that it has been able to compensate for this in Sri Lanka.
"We set up our factory in 2011 and have being going through different development phases since then. Our strategy was to employ a much higher spec compound to start with in order to get our processes in line; this greatly reduced the risk of quality defects," Todd explains. "Now that we have very good control within our production the repeatability is much, much better, and this means we're now able to take some of the over-engineering costs out of the compounds that we put in when initially developing these products."
Refining a compound can involve sourcing ingredients, such as carbon black or chemicals, from another supplier, or it can be achieved through the use of differing amounts of filler. By engineering better compounds that suit user requirements more closely, STARCO has been able to offset some of the raw material cost increases and shield end customers from price rises. "It is obviously very difficult to predict what's going to happen over the next months and where commodity prices will go, but so far we've been able to offset the increases in purchase costs by engineering slightly refined compounds," adds Todd.
Extra care is being taken to ensure changes to the compound don't negatively affect product performance. Richard Todd and STARCO are proud of the track record the Sri Lanka-made solid tyres are developing for quality. "We haven't had one single tyre claim for anything produced from November 2015 onwards," shares the chief executive officer. "Last year the ppm (parts per million) claim level was 364, which is outstanding, but not one single claim that we received last year was from a tyre produced in 2016."      stephen.goodchild@77.237.250.82