Uniwheels reports higher sales, profit in Q1 2017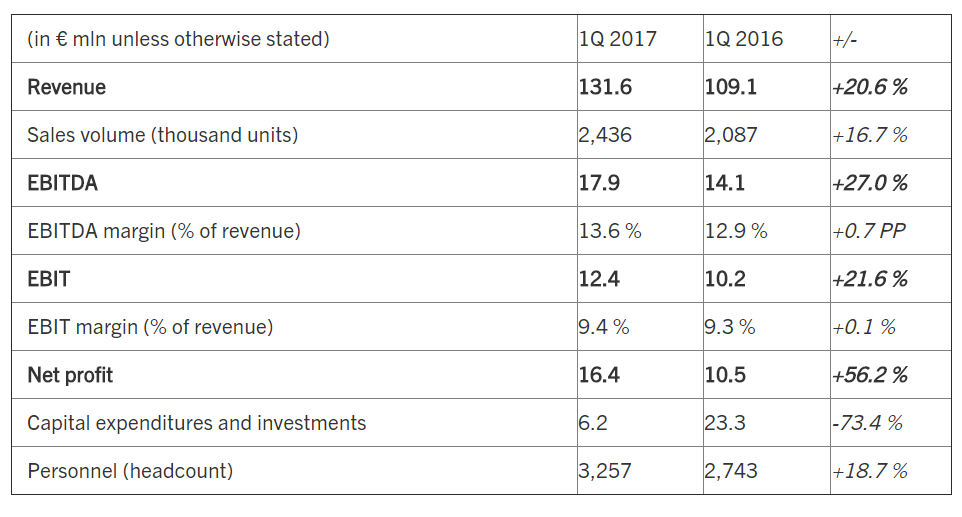 Alloy wheel manufacturer Uniwheels AG reports that it sold 2.436 million original equipment and aftermarket rims in the first three months of this year. This volume is 16.7 per cent higher than that achieved in the first quarter of 2016 and led to Q1 2017 revenues of €131.6 million, a year-on-year increase of 20.6 per cent. Revenue growth outstripped that of unit sales due to the presence of more higher value added items in the product mix as well as quarterly aluminium price adjustments.
Most sales took place in the Automotive segment, Uniwheels' OEM customer business. Unit sales within the Automotive segment amounted to 2.055 million wheels, a 15.3 per cent increase over Q1 2016. Aftermarket sales within the Accessory segment rose 24.9 per cent year-on-year to 381,000 units.
The LME aluminium price has risen since the final quarter of 2016 and influenced the level of raw material costs in the first quarter of this year. Uniwheels reports that personnel expenses grew in line with revenues and were impacted by the recruitment of additional employees for the company's new plant in Stawola Wola, Poland, as well as by wage increases.
The company shares that other operating costs grew moderately. In effect, EBITDA grew by 27.0 per cent to €17.9 million and, in spite of wage increases and growing raw material costs, the EBITDA margin improved to 13.6 per cent in Q1 2017.
Net profit jumped 56.2 per cent year-on-year to €16.4 million, and during the quarter was influenced by a positive non-recurring effect from foreign exchange derivative valuation, which amounted to €3.7 million.
Uniwheels has maintained the guidance for 2017 that was published together with its 2016 results. Thus, the company continues to anticipate a 10 per cent to 15 per cent year-on-year rise in wheel sales and a 14 per cent to 19 per cent growth in group revenues, taking the development of aluminium prices into account. EBITDA is expected to increase by 15 per cent to 20 per cent.