Remus launches cat-back exhaust system for VW Golf GTI MK7 Clubsport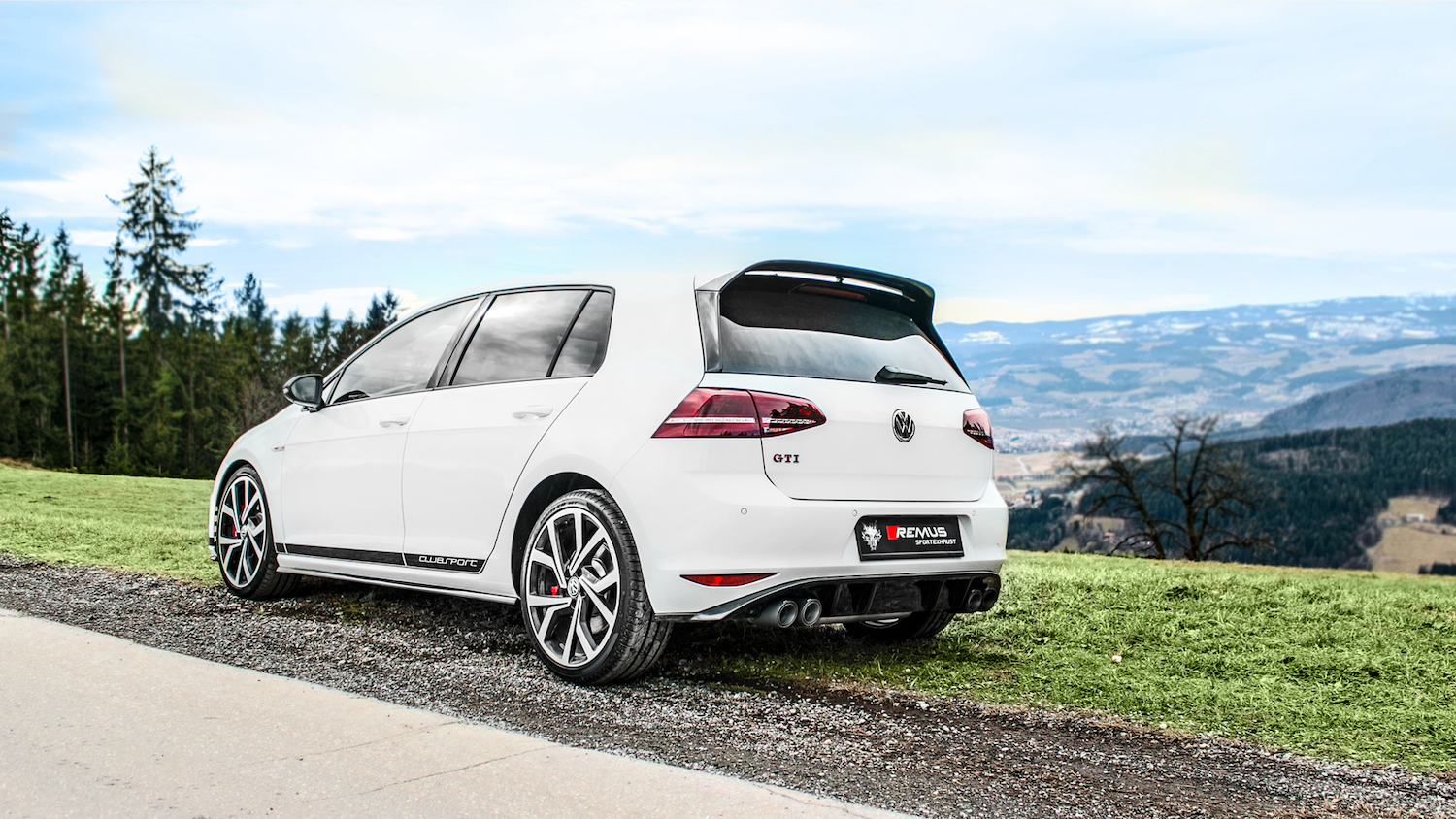 Remus has launched a new performance exhaust system for the new Mk7 Golf GTI Clubsport. The system is designed to improve performance and sound, with a Racing downpipe with sports cat to be fitted in conjunction with the Remus front silencer. The exhaust also features a resonated stainless steel cat-back centre section and a connection tube which enables the mounting of either the L/R sports exhaust or the non-resonated L/R Racing axle back system.
The Remus Clubsport range presents customers with a choice between fitting the Wolf Inside rear silencer (plus further single tail pipe options), or the louder, more uncompromising Wolf Inside Racing rear silencer, again with a choice single tail pipe options. Also available is a Wolf Inside cat-back system with unresonated front section.
Capping off the exhaust package, which is designed to reflect the specialised Clubsport itself, buyers can pick from a wide array of tail pipes. The Wolf Inside and Wolf Inside Racing lineup extends to a choice of five distinct options: a trio of twin, angled 102mm designs in straight cut/chromed, rolled edge/chromed or titanium internals. The final two options come from the Remus Street Race sub-range, which are smaller at 98mm, with customers able to opt for either a regular chromed variant or one finished in black chrome, both with carbon fibre inserts. Those opting for the Wolf Inside cat-back system can pick from a choice of quad tail pipe designs, all 84mm in diameter; angled with a rolled edge and a chrome finish, straight cut with a carbon insert, angled with a carbon ring, straight cut with Black Chrome and a carbon insert, or one with a straight cut and Titanium internals.
Golf owners can also opt for a choice of rear diffusers, both of which have been specially developed to complement both the Clubsport and the Remus exhausts. Both carbon look and satin black diffusers can be specified, and either one must be fitted if the buyer opts for the Wolf Inside cat-back system with unresonated front section and quad pipes.
Remus states that the quality of its systems rivals OEM levels of fit and finish due to extensive testing on the firm's own development car. It claims a noticeable increase in performance across the rev range, with peak power increases of 9bhp, and a jump in torque of 9.3Nm.