NTDA and Wheelwrights support WheelPower's Inter Spinal Unit Games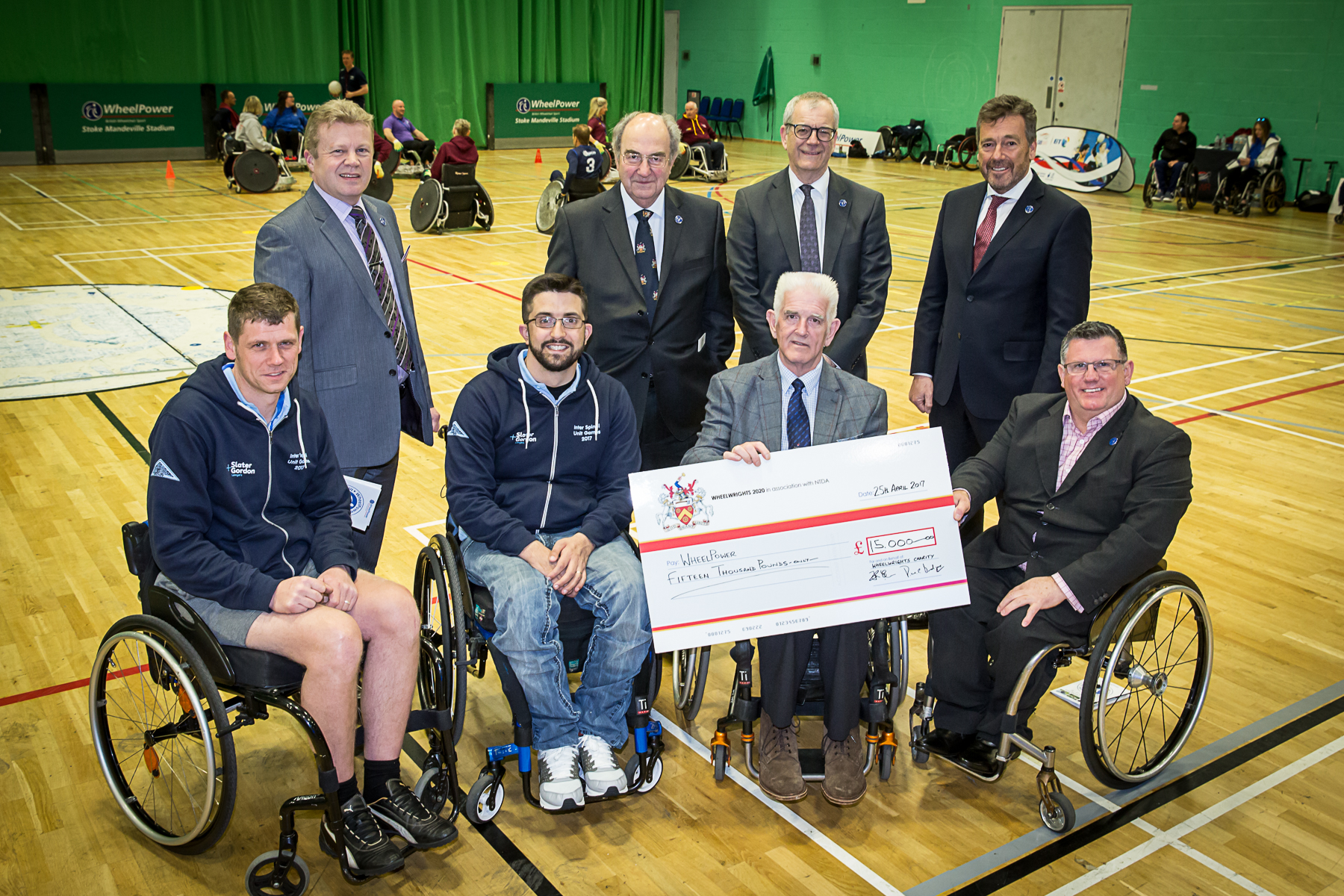 On Tuesday 25 May 2017, NTDA national chairman Roger Griggs and chief executive Stefan Hay, who are both Liverymen of the Worshipful Company of Wheelwrights, joined fellow Liverymen and Wheelwrights Past Masters David Viner and David Wernick in presenting a Wheelwrights' Charity cheque for £15,000 to WheelPower the British Wheelchair Sports charity at the Stoke Mandeville Stadium – the birthplace of the Paralympic Movement.
The cheque was presented to former Paralympian Kevan Baker OBE (Chair, WheelPower), Martin McElhatton (Chief Executive, WheelPower) and two of the athletes competing in the games on behalf of Stoke Mandeville namely John Cook and Luke Stanwick.
This specific presentation was made in order to support this year's WheelPower Inter Spinal Unit Games, but forms part of the Worshipful Company of Wheelwrights 2020 Appeal, which was launched to support aspiring athletes with disabilities at grassroots level.
The inspiration behind the 2020 Appeal is the fact that the 2020 Paralympic games in Tokyo coincide with the 350th anniversary of the founding of the Worshipful Company of Wheelwrights.
Since electing the Wheelwrights' Charity as its chosen charity partner in 2016, the NTDA, through member donations made at events such as the NTDA Winter Ball held annually in Blackpool and the NTDA Annual Dinner, together with direct donations from member companies such as Rema Tip Top and Kwik Fit, has raised more than £18,000 for the campaign.
NTDA chief executive Stefan Hay said: "Roger and I were honoured to be part of the Wheelwright's delegation invited to the Inter Spinal Unit Games. Stoke Mandeville Stadium is an amazing facility and both the WheelPower senior management team and the athletes we met were truly inspirational. The generosity of NTDA members has been terrific in supporting the Worshipful Company of Wheelwrights 2020 Campaign so far, but now that we are seeing the tangible difference those donations make, we hope that more members will be inspired to contribute to this incredible cause at our 2017 events and, perhaps, join the growing number of tyre industry Wheelwrights Liverymen!"