Ron Haslam Race School picks Dunlop as tyre partner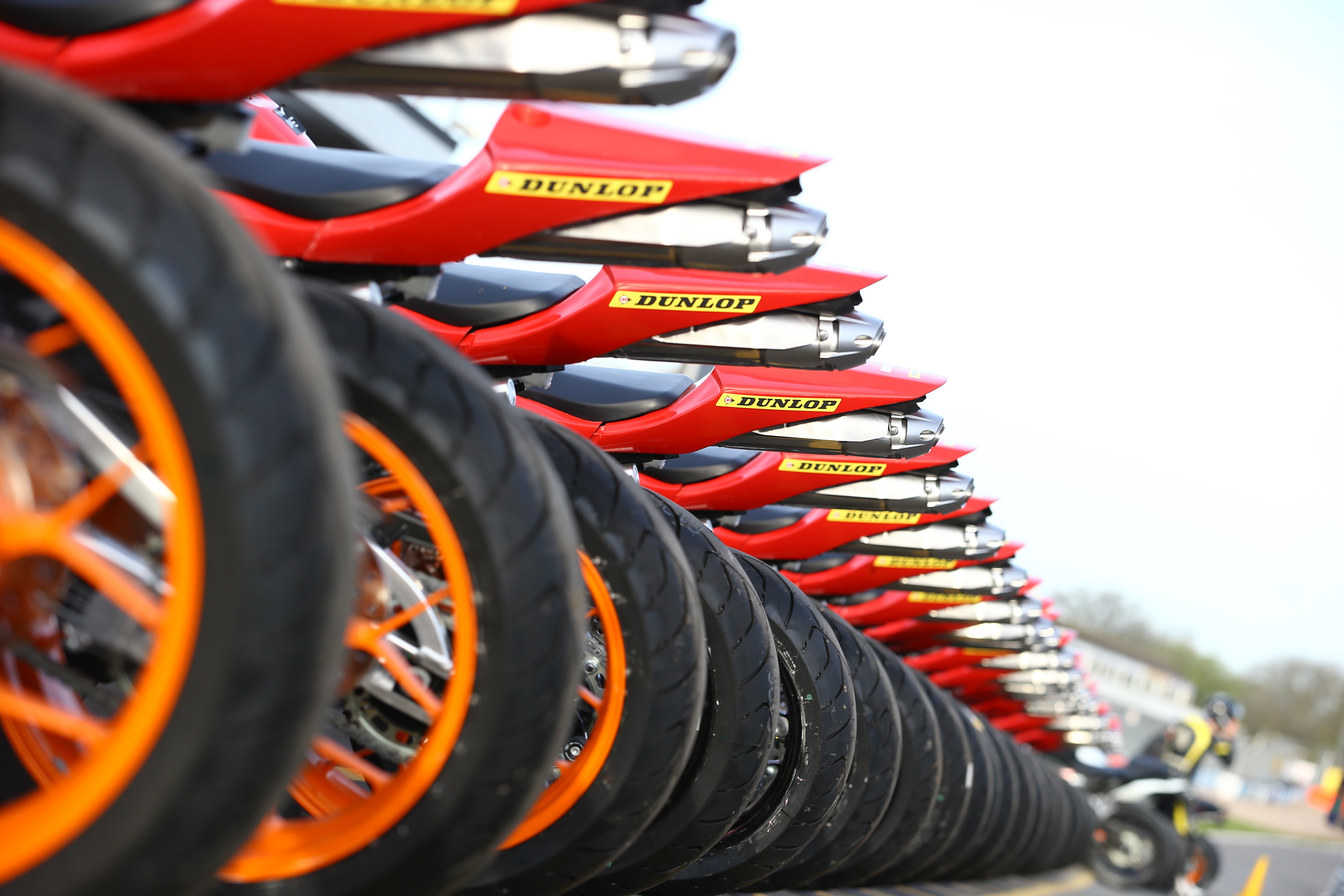 The Ron Haslam Race School has launched the season with a new tyre partner; Dunlop Tyres. Dunlop's RoadSmart III tyres will now be fitted to the fleet of Hondas used by the race school to provide an ultimate level of grip and performance at their track days running at the famous Donington Park circuit in Leicestershire.
Positioned as a sports touring tyre, the RoadSmart III will provide a wide range of performance criteria to the riders using the school's fleet. The tyre has been designed for demanding riders with the objective of being best in class for handling and grip whilst also achieving the highest levels of durability in the sector, which are all important criteria for a fleet of bikes at a professional race school such as Ron Haslam.
The RoadSmart III boasts several technologies and those which impacted the Race School's decision to switch to Dunlop's include:
The innovative tread design which has enhanced groove angles. These have been calculated to optimise tread stiffness, ensuring even wear to retain performance throughout the life of the tyre. Tyre life is essential when the bikes are used day after day on intensive track sessions.
The interconnecting groove tread (iGT) which ensures fast and efficient evacuation of water to maintain grip and handling – even when the tyre is worn. This design disperses more water than its predecessor, particularly at higher speeds that may be experienced during track sessions at the race school.
The tyre is also presented with a new rayon ply casing and front profile which gives more precise steering and requires radically less steering force from the rider. It also has the benefit of increased stiffness and provides even tyre wear across the tyre. In addition, the casing design reduces warm up time. This has been proven to reduce the variation in steering effort needed by the rider between cold and warm conditions perfect for a track session.
Ann Haslam of Ron Haslam Race School said: "We held our first track session with the Dunlops fitted on 5 April and the performance was second to none. As the brand of choice for road racing winners such as John McGuinness and Michael Dunlop, we are thrilled to be fitting the tyres to our fleet. We know that Dunlop tyres perform on the track whilst also providing the longevity needed for a race school like ours. We look forward to working closely with Dunlop in the coming months to provide some excellent track experiences for our growing customer base."
Dominic Clifford, motorcycle SBU manager for Dunlop commented: "Not only are we fitted on the fleet of Hondas at the school but we also benefit from branding on their bikes and on some of their promotional material. Getting riders to try our new products is important and encourages riders to try something new on their own bikes at home. We hope to see riders enjoying the tyres on the school's fleet and benefitting from the increased grip and steering precision provided by the tyre's technological innovations."