Exol receives CBOA 'award of excellence' for use of waterways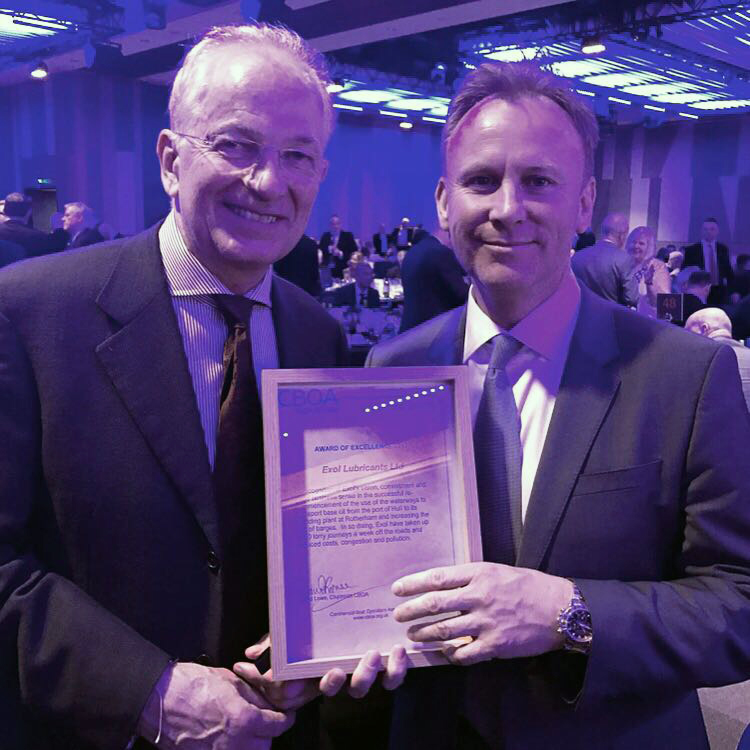 Exol Lubricants has won the award of excellence from the Commercial Boat Operators Association (CBOA) for its economic commitment to the waterways. The award was presented to Exol sales director and IAAF CV Committee chairman Steve Dunn at the FTA Multimodal awards, held at the Vox, Resorts World, in front of more than 600 guests.
The CBOA said it recognises the oil blender's 'vision, commitment and good business sense' in using barge transport with Exol recently introducing its new barge, Exol Pride, to the north east waterways to transport raw materials from the port of Hull to its bulk-blending plant at Rotherham, Yorkshire.
David Lowe, CBOA chairman, said: "The award of excellence – CBOA's highest honour – acknowledges Exol's significant contribution towards developing inland waterway transport in the UK and promoting this means of shipping within its industry. Many congratulations to the company."
Exol has become a recognised user of the waterways, leading the oil and lubricants market by investing in the environmentally-friendly alternative to transport large loads.
The company has been commended for its reduction in carbon footprint and has even featured in ITV's Barging about Britain, hosted by John Sergeant.
Steve Dunn, Exol Lubricants sales director, said: "This continued investment in the waterways is part of our larger strategy of reducing our carbon footprint and exploring ways to protect the environment. We're delighted to receive such prestigious recognition from CBOA and will continue to develop our contribution to barge transport."