Product, education and community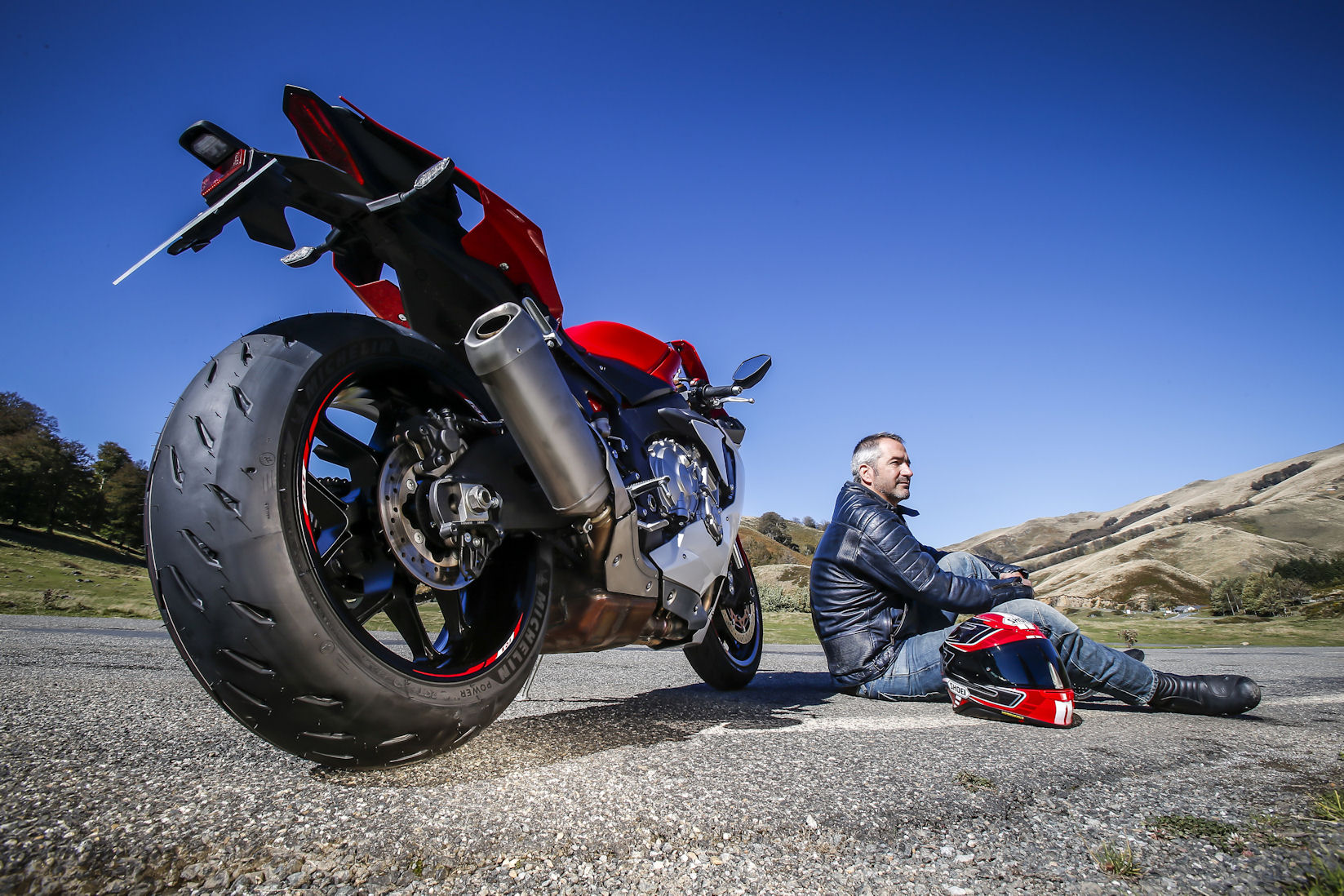 Michelin supporting new releases with rider tuition programmes
Although the overall UK market for motorcycle tyres was largely flat in 2016, James Dimmock says Michelin had a fantastic year – and is looking to continue this into 2017. The enthusiasm relayed by the two-wheel marketing manager for the UK, Ireland, the Nordic countries and Russia stems from the introduction of several key products, Michelin's rider education programmes and its upcoming second season as MotoGP tyre supplier.
First to the products, and the headline news here is the Michelin Power RS, a high-end power road sports tyre that's also suitable for occasional track day use. "I consider this a very exciting product," Dimmock comments to Tyres & Accessories. "The Power RS is a tyre for riders looking for the ultimate grip and performance, riders who are engaged with racing and understand how we've utilised our compounds."
A key reason behind Michelin's MotoGP comeback was a desire to utilise the championship to drive technological innovation, and Dimmock says the development of the Power RS incorporates lessons learned in MotoGP and other Michelin-supported championships around the world, such as the CIV and CEV championships in Italy and Spain, the World Endurance Championship and Supermoto, as well as endurance, club and local-level racing. "As a company we love racing. The push it provides is a fantastic opportunity to develop new technologies that benefit the consumer."
An official Power RS launch will take place in late March – almost a quarter of a year after the first stocks arrived with dealers. "We released the Power RS months ahead of the launch to give our dealer network access to the product and technical information about it," explains the two-wheel marketing manager. "We're getting information out there into the market now, but it's also important to hold a major launch in the spring as that's when sports bike riders will be looking at what's exciting in 2017. We want to push the product in a big way at that time to make sure everyone's informed."
The Power RS range includes four front and nine rear sizes, a line-up that covers a broad spectrum of motorcycles, from 300cc bikes to large capacity Supersport machines.
On/off road and commuter tyres
Another significant product going into 2017 is the Anakee Wild. This trail bike range came to market last year and is proving a popular choice for large adventure bikes such as the BMW GS. The range is designed for 50 per cent on-road and 50 per cent off-road use, and currently contains five sizes.
In a statement accompanying the tyre's launch, Michelin named the target market for the Anakee Wild as riders "who want to break away from paved roads and fully exploit the potential of bikes designed both for roads as well as the most uneven, sandy, stony and muddy tracks." As such, the Anakee Wild was designed to "adapt to all terrain types and situations, as well as the most varied climates."
Scooter and commuter bike tyres is also a product area that's keeping Michelin's two-wheel team busy. "More and more people in the UK are utilising bikes, whether for short local delivery in cities or as their first means of transport," comments Dimmock. "Motorcycling's never been so accessible in terms of value." He adds that the motorcycle team at Michelin is proud of its complete offer for scooters, which covers everything from the classic S83 pattern for older and retro Vespa models up to a tyre duo that provides "all the benefits and the look and feel of the big bike tyres" – the Pilot Road 4 Scooter and Pilot Power 3. Both tyres were unveiled at the end of 2015 and were covered in our 2016 motorcycle tyre feature.
Occupying the middle ground between these products is an important range for Michelin, the City Grip. The Michelin City Grip has gained various original equipment approvals with leading European scooter manufacturers and is complemented by the City Grip Winter, a siped, cold weather tyre with a 'thermoactive' compound that gives additional traction. "These are a phenomenal pair of products that cover pretty much all sizes in the market."
Riders need tuition and community
Getting the most out of your motorcycle tyres involves more than buying a product endorsed by the professionals or one that – in the right hands – can help shave seconds off a lap time. Riders must know how to handle both bike and tyre. Michelin is giving purchasers of its tyres the chance to gain a greater depth of ability and knowledge at an affordable price.
"One of the most exciting things we have planned for 2017 is our Power Days and Star Cross Days event programme," Dimmock elaborates. "This is something very close to my heart." With Power Days, Michelin works with certain key partner dealers to give riders who've purchased a pair of Power RS tyres (or any of a number of other Michelin two-wheel products) access to a very heavily subsidised track day, complete with tuition. Power Days participation costs just £49 (proof of tyre purchase necessary), with events held in the summer at five different race circuits.
"I find the concept exciting as it gives riders access to the product in an environment that allows them to see all their features, benefits and advantages," Dimmock continues. "These track days give people buying our products an amazing day out, and the days aren't just about access to track time – Power Days also offers tuition and access to greater product understanding, as well as the chance to meet like-minded enthusiasts. One of the great things about biking is the community, therefore we want to include this as much as possible and get people involved."
The £19 Star Cross Days takes a similar approach and was introduced following the launch of the Michelin Star Cross 5 competitive motocross tyre – a product James Dimmock says has proven very successful. For this event, Michelin works with some of the teams it sponsors in the motocross arena in the UK. "Riders just starting out can greatly benefit from the tuition on offer, and again it is also very much about the camaraderie."
MotoGP and an open buying market
Alongside the launch of new products and this year's tuition events, Michelin is also looking forward to a second season as MotoGP tyre supplier following its return in 2016 after a seven-year hiatus. "We made headlines for a number of reasons," comments the two-wheel marketing manager. "Some of the great ones were that lap times tumbled immediately and technology is being driven forwards." Dimmock confirms that the return to MotoGP has proven to be "a steep learning curve," but he believes Michelin has the right people on board to succeed as supplier to the top-level championship. "We want people to see we've driven down times and driven up performance, and driven that technology and performance into our road product – bring on 2017 for some more."
As to how Michelin sees the UK bike market as a whole, Dimmock reflects on one particular favourable development seen over the past couple of decades. "Back in the 1990s the choice really was just between commuter bikes or sports bikes for hobbyists. But we have amazing choice now with big adventure bikes such as the BMW GS (Michelin supplies the Anakee 3 and Anakee Wild for this), and sports bikes are still around but their performance keeps on growing – 600cc bikes offer phenomenal performance, never mind the 1000cc plus machines. Then there's the amazing evolution of retro neo-classics, and new segments such as that occupied by the Ducati Scrambler. This is exciting for a tyre manufacturer, it allows us to offer a wide and varied range – we try and ensure there's a product suitable for every application.
"We have a fantastically open and varied buying market. As an engineering and manufacturing company that invests so much in research and development, it's fantastic to have this opportunity to meet people's needs," concludes the two-wheel marketing manager.
stephen.goodchild@77.237.250.82