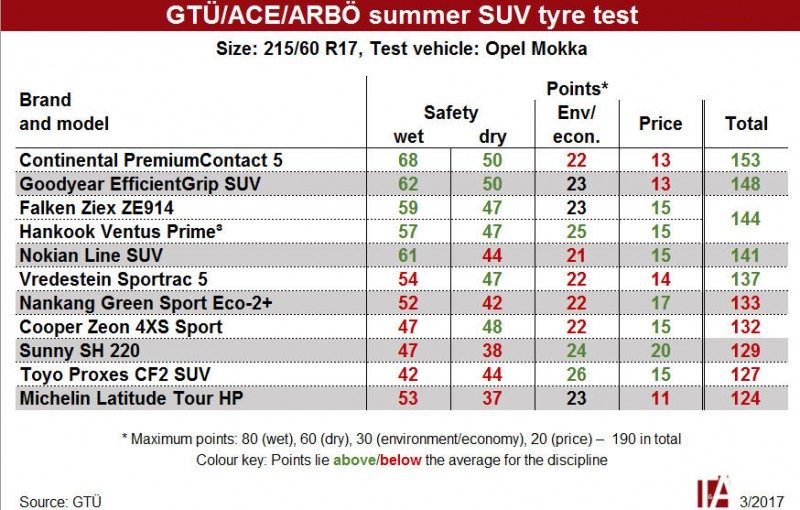 'Neither price nor brand guarantee safety': Premium tyre takes wooden spoon in test
Every now and then a tyre test throws a surprise our way. We saw that in the ADAC test published last month, in which the affordably-priced Esa-Tecar Spirit 5 HP was found to be "surprisingly good" and was one of the five top-rated tyres. Then there are unpleasant surprises, such as the one Michelin must have received when finding out the results of a new SUV tyre test released by German technical monitoring agency GTÜ together with German and Austrian motoring clubs ACE and ARBÖ. The Michelin Latitude Tour HP ended the test of 11 tyres in last place, behind premium, value and budget competitors alike.
The size 215/60 R17 summer tyres were fitted to an Opel/Vauxhall Mokka for the comparative evaluation and underwent a series of tests in wet and dry conditions. Their environmental and economic performance was also measured. First place went to an 'old acquaintance' – the Continental PremiumContact 5, a tyre whose successor, the PremiumContact 6, is already on sale. The Continental tyre gained 153 points out a total of 190 and with this achieved a rating of 'highly recommended'. GTÜ comments that victory went to the PremiumContact 5 as it aced every test discipline, displaying no weakness on wet surfaces, nor in the dry or the handling disciplines. GTÜ reports that the Continental-shod Mokka came to a stop from 80km/h on a wet surface within approximately 26 metres, a much better performance than those delivered by its rivals.
The runner-up position in the test was occupied by the Goodyear EfficientGrip SUV, which racked up a total of 148 points and was thus the highest-scorer of seven tyres to gain a 'recommended' rating. The testers commented that the "second-placed Goodyear tyre was tops in dry handling and just behind the Conti when it came to braking, but didn't perform quite so well on wet road surfaces."
Third place was shared by the Falken Ziex ZE914 and Hankook Ventus Prime³, with each of the pair scoring 148 points. The Nokian Line SUV missed out on a podium finish with its 141 points but was still rated 'recommended', as was the Vredestein Sportrac 5 (137 points), Nankang Green Sport Eco-2+ (133 points) and Cooper Zeon 4XS Sport (132 points).
The final candidates only received a 'conditionally recommended' rating. The Sunny SH 220 collected a total of 129 points, while the Toyo Proxes CF2 SUV was given 127. According to GTÜ, both lost points for poor results in the braking tests; the Mokka took more than 34 metres to stop on the wet surface when fitted with the Sunny and Toyo tyres.
Then we come to final place and the Latitude Tour HP, a tyre manufactured by a company more accustomed to finishing at or near the top of the table. The GTÜ/ACE/ARBÖ test is, however, the second poor showing for the Michelin tyre in the past month, as the Latitude Tour HP finished second to last in the size 215/65 R16 98H test published by the ADAC. It admittedly performed better than some in the wet braking test, stopping in 31 metres, however the testers were less than convinced by what was also "by far" the most expensive tyre evaluated. The Michelin tyre's stopping distance from 100km/h in the dry – 40.6 metres – was the poorest result out the 11 tested tyres and 5.1 metres longer than the Continental tyre's stopping distance. "Neither price nor brand guarantee safety," concluded GTÜ. "Motorists should therefore take a careful look before buying tyres and then make a decision."
Category: Product News