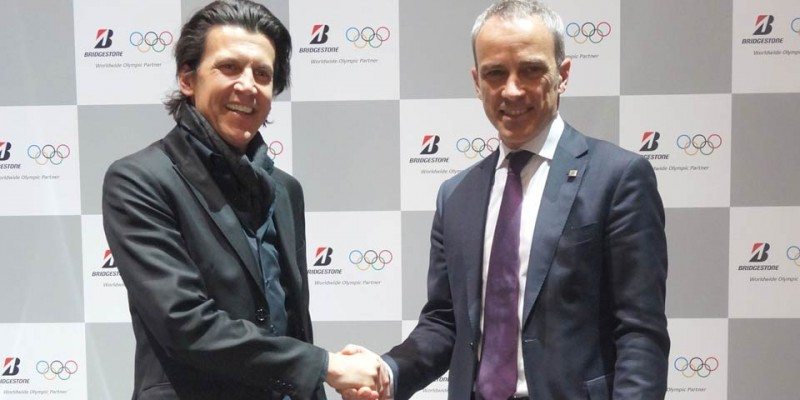 Christophe Dubi (l) and Paolo Ferrari celebrate the partnership's activation
Bridgestone's Olympic partnership was officially 'activated' within the EMEA region at the Geneva Motor Show this week. Paolo Ferrari, chief executive officer and president of Bridgestone EMEA, announced the partnership's extension throughout the region at a press conference that was also attended by Christophe Dubi, the International Olympic Committee's executive director of Olympic Games.
"At Bridgestone, we are making a long-term commitment to the Olympic Movement with the purpose of showcasing its support for individuals and efforts to empower people to chase their dreams," states Ferrari. "We believe that is a powerful message, and in the coming months you will see how exactly we plan to activate this exciting partnership. But I can say, from my own perspective, I know that sport has a universal appeal, and this is exactly what we need here in our region. This partnership brings emotion to our brand."
Commenting on the announcement, Dubi said: "When athletes are chasing the dream, it takes a lot of solidarity, and we are very fortunate to have TOP sponsors investing in the Olympic brand and helping us."
The long-term partnership between the IOC and Bridgestone will run through 2024 and cover the Olympic Winter Games PyeongChang 2018, the Olympic Games Tokyo 2020, the Olympic Winter Games Beijing 2022 and the Olympic Games 2024.
Category: Company News