Brand Finance: Bridgestone the most valuable tyre brand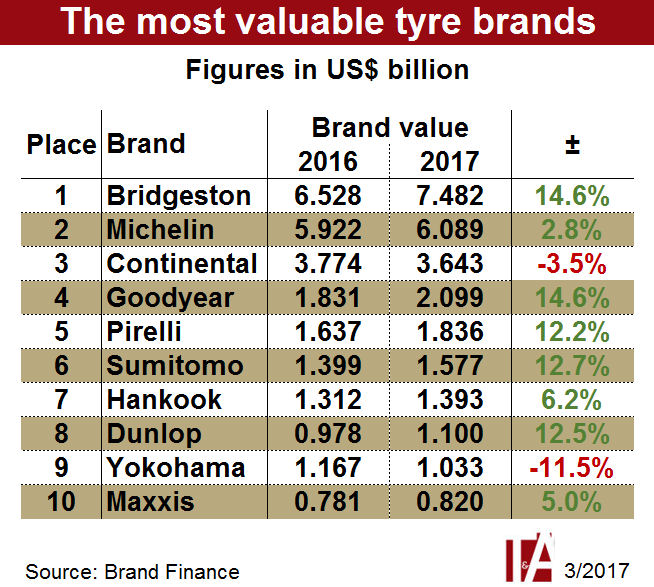 Even through raw material costs are on the rise and these are driving up tyre prices, eight of the ten tyre brands deemed most valuable by Brand Finance have seen their brand values rise during the past year.
According to figures that the UK-based branded business valuation and strategy consultancy released in February, Bridgestone is the fastest-growing and most valuable brand. In its 'Auto 100 2017' report, Brand Finance calculates that Bridgestone's brand value increased 15 per cent to US$7.5 billion. Michelin comes in second with a brand value of US$6.1 billion after rising three per cent, while Continental takes third place despite falling four per cent to US$3.6 billion.
Now in ninth place, Yokohama is the only brand to have fallen a place on the table. The Japanese brand dropped 11 per cent in value to US$1 billion, and in doing so swapped places with Dunlop. Brand Finance opines, however, that despite its fall in value – the Yokohama brand's profits declined by almost 50 per cent in the first half of 2016 – Yokohama Rubber's acquisition of Alliance Tire Group (ATG) will help strengthen the Yokohama commercial vehicle tyre offering, and the brand may see its value grow in the coming year.
Brand Finance calculates the values of each brand using the 'Royalty Relief approach'. This involves estimating the likely future sales that are attributable to a brand and calculating a royalty rate that would be charged for the use of the brand – what the owner would have to pay for the use of the brand, assuming it were not already owned.
stephen.goodchild@77.237.250.82