Size VF1050/50R32 tyre added to Trelleborg TM3000 range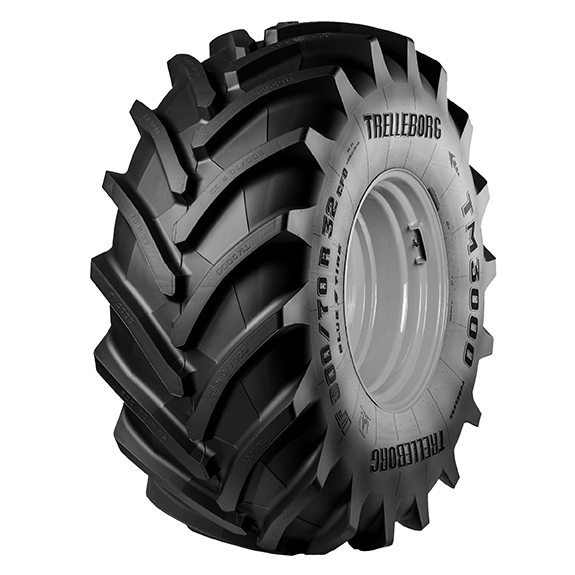 An additional size is joining the Trelleborg TM3000 range of tyres for spreader applications. The new VF1050/50R32 product will be unveiled at the SIMA 2017 fair in Paris later this month following its debut at the National Farm Machinery Show in Louisville, USA, which begins tomorrow.
The VF1050/50R32 tyre offers the benefits of the VF construction and a D rated load index (65 Km/h; 40 mph). Compared to standard options in the market, the VF construction allows machines to carry up to 40 per cent more load at the same pressure or 40 per cent less inflation pressure while carrying the same load. This means that the tyre can carry up to 13,200 kilogrammes (29,100 lbs) at 3.6 bar (52 psi).
"The new generation of spreader machines show an increasing need for carrying higher load while constantly reducing the contact pressure on the field to limit soil compaction during spreading operations," comments Lorenzo Ciferri, marketing director at Trelleborg Agricultural and Forestry Tires.
Another important feature of the TM3000 is the adoption of Trelleborg's trademarked ProgressiveTraction technology. The manufacturer states that this not only increases traction, but helps protect the tyre from stubble damage and improves road wear resistance and comfort. In addition, Trelleborg opines that its rounded tread shoulder makes the VF1050/50R32 tyre "very respectful on soil and grassland," and improves machine handling.
"As the leading global indoor farming shows, the National Farm Machinery Show and SIMA provide the perfect opportunity to introduce the new size to the market. Producers from across the globe will benefit from this new tyre size and the added technology it encompasses," concludes Ciferri.
The new tyre can be seen at stand C060, Hall 7 at SIMA 2017 or at booth 8949 at the National Farm Machinery Show.