It's all good, almost – 10 tyres put to the test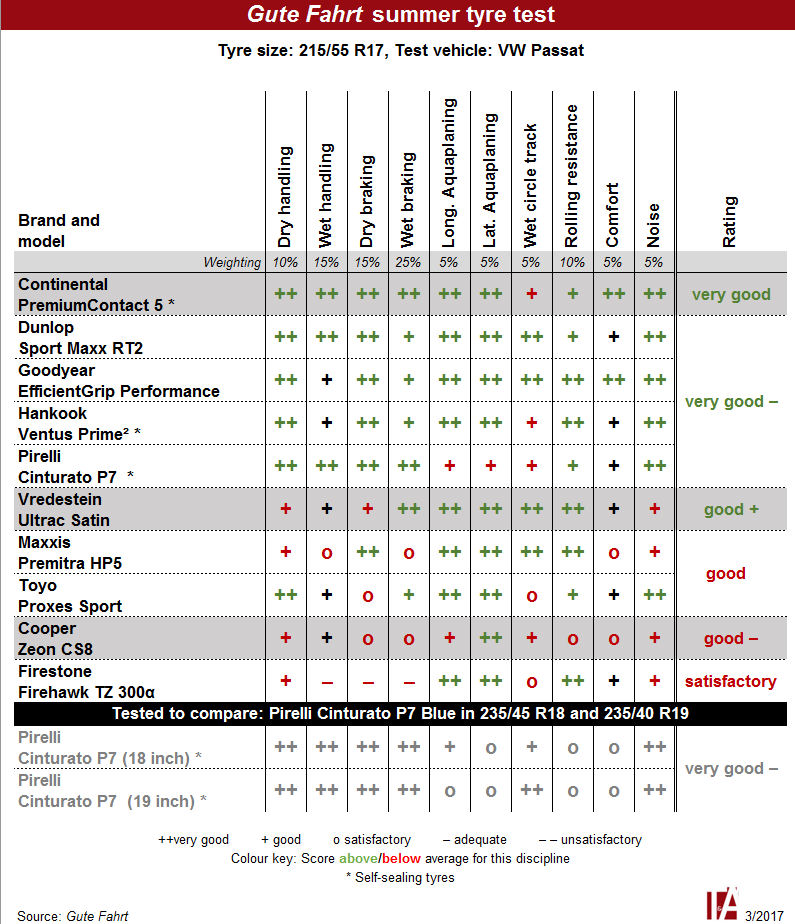 The interestingly-titled publication 'Gute Fahrt' is a German magazine that focuses on Volkswagen Group vehicles, and the most recent issue puts a group of size 215/55 R17 tyres under the magnifying glass. The tyres were fitted to a VW Passat for testing purposes and additionally evaluated alongside two Passat optional original equipment sizes, the Pirelli Cinturato P7 in 235/45 R18 and 235/40 R19, in order to demonstrate the respective advantages and disadvantages of 18/19-inch fitment compared with the 17-inch size. Three of the ten 17-inch tyres, as well as both Pirelli OE models, were self-sealing models. One of these self-sealing tyres, the Continental PremiumContact 5, was voted the test winner, however its advantage over its rivals was not huge – aside from one tyre that received a 'satisfactory' rating, all were considered to be either 'good' or 'very good'.
The candidate tyres were evaluated at Pirelli's proving ground in Vizzola, Italy under the usual wet and dry test conditions, as well as for rolling resistance and comfort/noise. The tyres fitted to the two test Passats were inflated to 2.3 bar (33.4 psi) rather than the manufacturer recommended 2.6 bar (37.7 psi), however the Gute Fahrt testers commented that the lower pressure would only result in very slight additional fuel consumption while noticeably increasing ride comfort.
While the testers didn't encounter a single truly bad tyre, different degrees of good do exist. Following the winning Continental tyre, which achieved a rating of 'very good', came four further tyres – or six if including the two Pirelli OE sizes – that carried a small minus next to their 'very good' ratings. These Goodyear, Dunlop, Hankook and Pirelli tyres also received the same 'Gute Fahrt recommendation' as the Continental tyre. None of the abovementioned tyres scored less than 'good' in any of the ten test categories. The same also applied to the Vredestein Ultrac Satin, however it ended the test slightly behind these tyres with an overall rating of 'good +'.
A 'good' rating was given to the Maxxis Premitra HP5 and Toyo Proxes Sport, while the Cooper Zeon CS8 was rated 'good –'. In last place with a 'satisfactory' rating was the Firestone Firehawk TZ 300a; the tyre's wet handling and both wet and dry braking held it back from a higher ranking.
In regards to the larger-sized Pirelli tyres, Gute Fahrt commented that "it is pleasing that 18 or 19-inch tyres can be fitted with confidence to the Passat." The testers added that while their use "reduces comfort a little," these sizes provide "top handling" and "shorter wet braking distances." The 18 and 19-inch version of the Pirelli Cinturato P7 delivered the shortest wet braking distances of the entire test, and from 100km/h in the dry stopped around 20 centimetres shorter than the best-performing 17-inch tyre, the Vredestein Ultrac Satin.