Bridgestone broadens agri tyre range with combine harvester fitments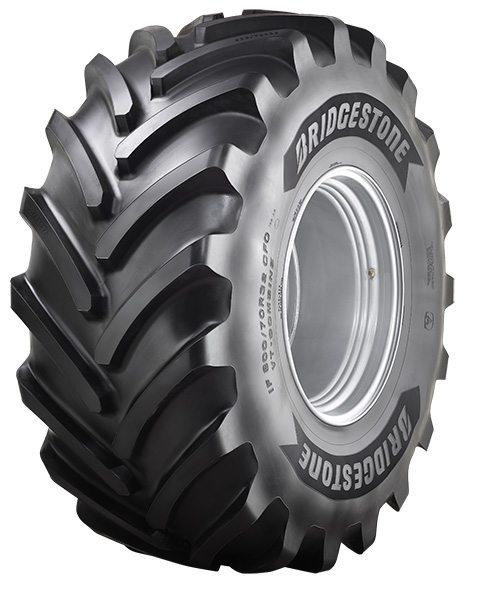 Since its debut in 2014, the Bridgestone range of agricultural tyres has included fitments for high horsepower tractors. Now, with the introduction of the VT-Combine, the company has extended the line-up to cover combine harvesters. Designed specifically for Cyclic Field Operations (CFO) and featuring Improved Flexion (IF) technology, the VT-Combine offers 20 per cent more load compared with standard tyres (as set out by ETRTO standards). The tyre also allows a maximum speed during CFO of 15km/h, as opposed to the 10km/h maximum with conventional tyres.
"During harvest, farmers and agricultural contractors are under the greatest pressure to get things done quickly and efficiently," comments Mark Sanders, general manager Agricultural/Original Equipment and Replacement at Bridgestone Europe. "This is why we are excited about the launch of this revolutionary harvester tyre. Trial versions of VT-Combine have been tested on three continents for three full seasons with an overwhelmingly positive response. By allowing high payloads at lower inflation pressure and with a larger tyre footprint, in line with the strict IF CFO standard, the Bridgestone VT-Combine enables farmers to minimise soil compaction across a wide range of harvesting conditions. This will secure high yields through future cropping cycles."
In addition to offering farmers a load bonus of up to 55 per cent (IF CHO standard), Bridgestone says the VT-Combine is "built to go the distance." The manufacturer reports that a reinforced casing construction, highly flexible sidewall and patented robust S-LINE profile bead all contribute to "delivering the outstanding durability needed to keep on performing under high and constantly changing payloads." Moreover, the tyre has been designed with a 6-tread ply construction that eliminates the need for a steel belt, a quality Bridgestone says ensures excellent impact absorption, good puncture resistance and easy repair.
A patented new involute lug design aims to minimise soil disturbance and provide good traction; Bridgestone comments that the VT-Combine is "as much at home on uneven surfaces as it is on inclined plains or in wet conditions." Furthermore, the tyre has been designed to maximise its footprint size under low inflation in order to minimise soil disturbance and protect soil fertility for future seasons. Driver comfort comes through a flexible sidewall, which absorbs shocks, while longer lug bars ensure a smooth ride, even on the road, without excessive vibration or noise disturbance.
Although designed for combine harvesters, Bridgestone states that the VT-Combine is also well suited to a variety of other types of harvesting machinery, including forage harvesters, potato and sugar beet harvesters. The tyre is currently available in 11 sizes.