Pirelli supplies Ferrari Daytona event, new tyre sizes for Ferrari F488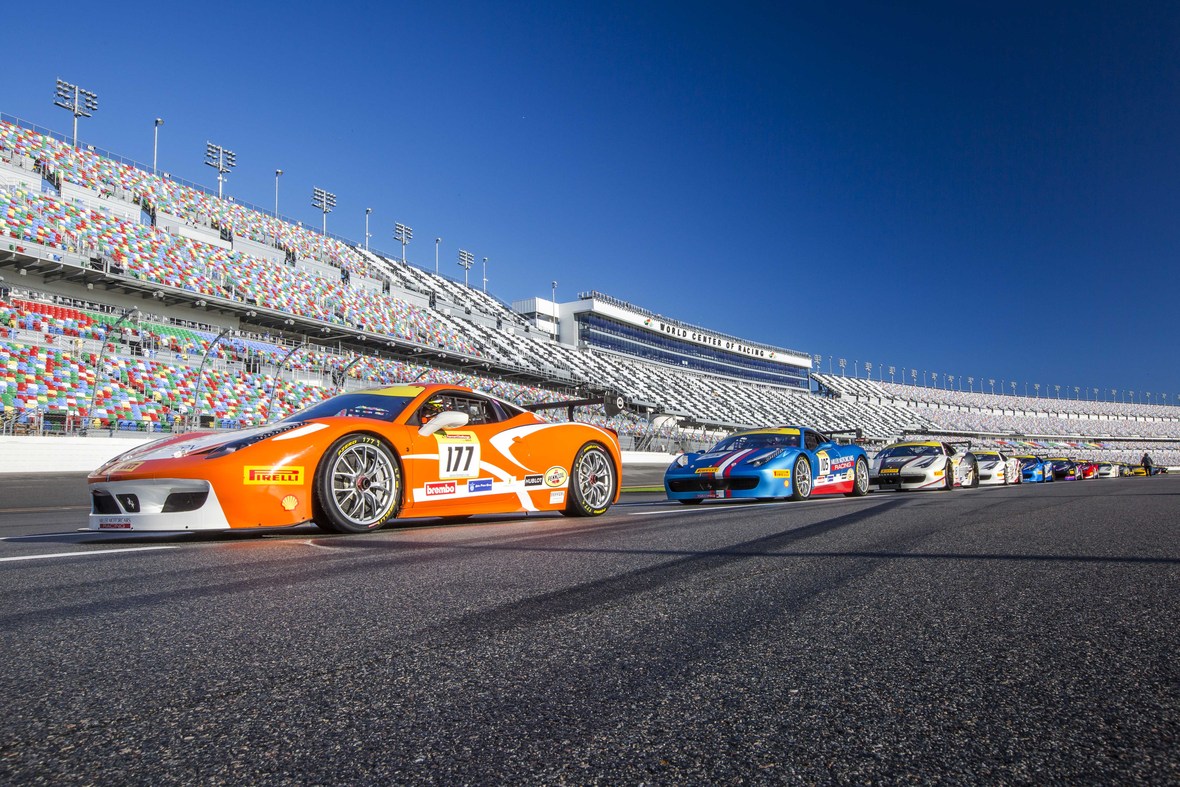 Pirelli will supply a record number of tyres this weekend in Daytona, for the first Ferrari World Finals held in USA. The event, which brings together the European, North American and Asia Pacific editions of the Ferrari Challenge to elect a champion of champions, has previously taken place in Italy and Abu Dhabi. Pirelli adds that it has provided 15,000 tyres across this year's 18 Ferrari Challenge events on nearly 700 cars on three continents. The World Finals comprises a series of races in equal Ferrari 458 Challenge Evos, and will mark the biggest presence Pirelli has ever had in the competition, with 5,382 tyres being supplied. As well as the Ferrari Challenge cars, there will be an appearance from Ferrari's Formula One stars and a display of both historic and modern F1 cars.
There will also be a demonstration of the Ferrari XX programme, which is intended not just as a test bed for future car evolutions but also future tyre evolutions. Much of the work on Pirelli's intelligent Cyber Tyre was carried out using a Ferrari FXX, as the Italian firm continues its research into the tyres of tomorrow.
The relationship between Pirelli and the Ferrari Challenge started in 1993, when the championship used the Ferrari 348. It will continue into the future with the Ferrari F488 challenge car, which will be presented in Daytona. The new car will run on tailor-made Pirelli P Zero tyres in new sizes, which offer a larger contact patch (increased by 15 per cent) yet with five per cent less weight; this reflects Pirelli's "technical progress" on both competition and road car tyres, the manufacturer states. The new sizes are 275/675-19 on the front and 315/705-19 at the rear.
Pirelli's motorsport director Paul Hembery said: "Pirelli and Ferrari share a competitive spirit enhanced by the unique flair of Italian engineering technology, and this will be the real highlight of the Daytona weekend. It's a privilege for us to be chosen to equip all these fantastic cars, from the Formula 1 cars that will be demonstrated, to the Ferrari Challenge cars that will actually compete, as well as all the exciting road cars such as the LaFerrari Aperta that will also be present. Our presence in North America has been further enhanced by the opening of the P Zero World store in California and we're delighted to extend that profile by playing a prominent role in the Ferrari World Finals at such an iconic American venue."