New sizes bolster Mitas CHO line-up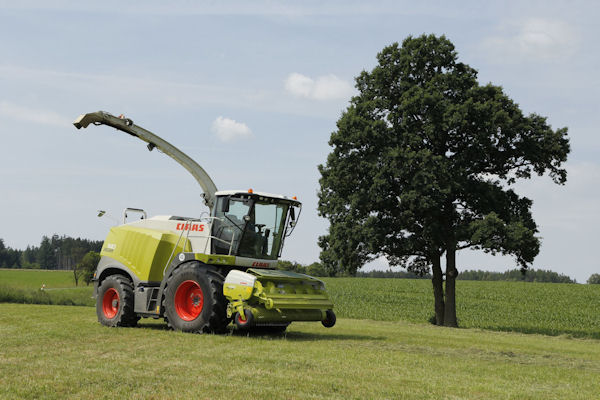 Trelleborg Group company Mitas is extending its range of Cyclic Harvesting Operation (CHO) tyres, and this month presents two new sizes – 900/60R42 CHO 183D/186A8 SFT and 900/60R38 CHO 181D/184A8 SFT.
Mitas CHO tyres are designed for combine harvesters, grain carts and similar implements. In order to facilitate larger loads at a lower tyre pressure – a combination that reduces soil compaction – CHO construction uses 'hexacore' technology, steel breakers and flexible sidewalls.
"Cyclic loads when filling and emptying corn tanks, for instance, can vary significantly, by more than twice in some cases. At high inflation pressures, this leads uncompromisingly to soil compaction. The solution is a Mitas CHO tyre as it is capable of carrying more load at a lower tyre pressure," comments Pavel Kott, product manager for Mitas agricultural tyres. "Mitas CHO tyres are a popular original fitment preferred by major combine harvester manufacturers. The range extension of CHO tyres is a direct response to their needs and tyre size specifications and we now offer nine sizes of CHO tyres on worldwide markets. An additional three sizes will be released in first quarter of 2017."
Mitas says its CHO tyres fulfil all legal requirements on vehicle widths and are mountable on standard rims.
Mitas CHO tyre sizes
Currently available:
900/60R42 CHO 183D/186A8 SFT (new)
900/60R38 CHO 181D/184A8 SFT (new)
900/60R38 CHO 178D/181A8 SFT
900/60R32 CHO 176A8/173B SFT
900/70R32 CHO 182A8/179B SFT
800/70R32 CHO 175A8/175B SFT
800/70R38 CHO 178D/181A8 SFT
680/80R42 CHO 180D/183A8 SFT
680/85R32 CHO 178A8/175B AC 70 G
From early 2017:
680/80R38 CHO 179D/182A8 SFT
800/70R42 CHO 182D/185A8 SFT
800/70R38 CHO 181D/184A8 SFT