EKS teams' title a highlight in Cooper motorsport year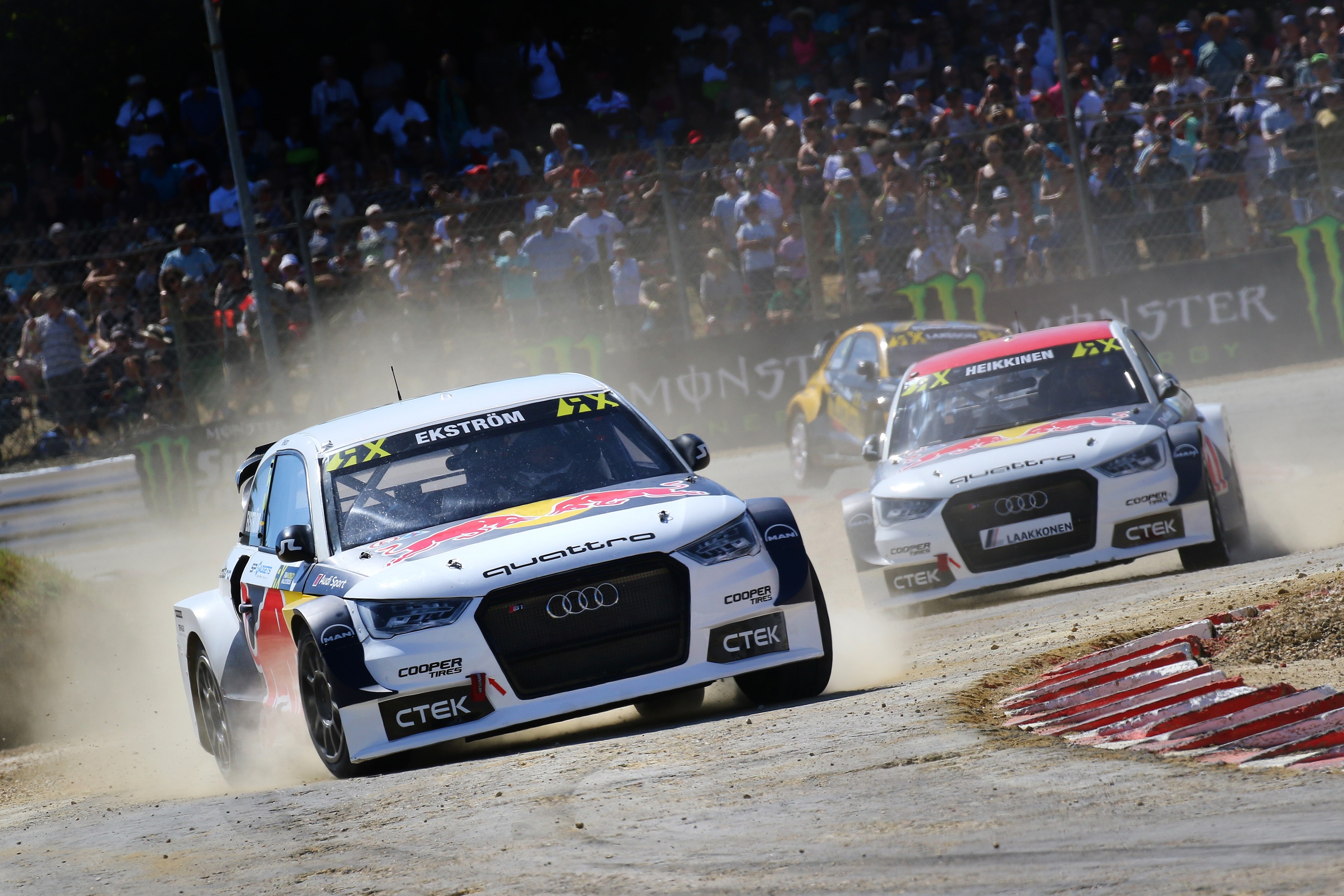 Manufacturer deploying Avon in major motorcycle series and more
In 2016 Cooper Tire continued to support the World Rallycross Championship and European Rallycross, also providing tyres to Dakar Rally veteran Xavier Foj, who has taken on the challenge an impressive 26 times. Meanwhile, Avon Tyres burnished its reputation as master of classic motorcycle race tyres, underlined in the Isle of Man this year with victories for Avon in both the Senior and Junior Classic TT races, for John McGuinness and Michael Dunlop respectively.
At the final round in Argentina, EKS clinched the 2016 FIA World Rallycross Teams' Championship as team-mates Mattias Ekstrom and Topi Heikkinen racked up enough points during qualifying to scoop the coveted title ahead of Team Peugeot-Hansen. Ekstrom was crowned this year's World RX drivers' champion at the previous round in Germany after scoring enough points to secure the accolade before the Argentina race. In a hotly contested three-way battle for second place in the 2016 World RX driver standings, it was Johan Kristoffersson who came out top – only one point ahead of Andreas Bakkerud and Petter Solberg who finished third and fourth respectively.
Sarah McRoberts, marketing communications manager for the series' tyre supplier, Cooper Tire Europe, said, "It's been a fantastic season for EKS and World RX, the competition has been close all year both in the drivers' and teams' championships.
The drivers' champion had already been crowned by the time World RX travelled to South America. Ekstrom was crowned the new champion after scoring enough points on Cooper tyres, in Buxtehude (14-16 October), to secure the title, finishing fifth at the German RX round. Throughout the third season of World RX, Cooper said its specially formulated tyres delivered closely fought competition across all terrain on the 12-round calendar.
McRoberts said, of Ekstrom's victory: "It's been another incredible year for World Rallycross. Many congratulations to Mattias for clinching the title and becoming the latest champion on our tyres. World Rallycross really is the perfect way for us to demonstrate the capabilities and durability of Cooper tyres. It's a pleasure to work with all the teams and drivers involved, and we are delighted to be continuing as sole tyre supplier in the championship next year."
In fact, Cooper Tire Europe will remain as the Official Tyre Supplier and Associate Partner to the FIA World Rallycross Championship through to the end of 2019 as part of a new three-year deal that begins in 2017. Cooper will seamlessly be continuing to supply the championship following a highly successful association with World RX since its inception in 2014.
World RX managing director for IMG, Paul Bellamy, said, "Congratulations to EKS which has made it a double victory this year by winning both the drivers' and the teams' championships which is an extraordinary achievement."
Bellamy continued, talking after the World RX of Argentina, saying, "It's quite incredible to think that our second, third and fourth placed drivers are separated by only one point at the end of 12 events. Now we have a four-and-a-half month break before the 2017 season-opener in Barcelona next April."
McRoberts added: "It's particularly rewarding for us at Cooper that our unique rallycross tyres – offering unrivalled levels of grip and traction on both tarmac and gravel – enable the drivers to push hard, and provide highly entertaining racing for the fans at each of the rallycross venues."
The draft calendar for the 2017 World RX season consists of 12 rounds including an all-new race at Killarney race circuit in Cape Town, South Africa (11-12 November).
Avon brand in support of moto racing
Avon dominated the podium at the Classic TT with a host of top riders, including Dean Harrison, Maria Costello, Michael Rutter and Alan Oversby all using Avon race rubber. The Melksham-based tyre company also supported riders at the Isle of Man TT, Manx Grand Prix, Ulster Grand Prix, and the majority of the field at the Goodwood Revival.
From a four-wheel perspective, Avon Tyres Motorsport supplies Group C Racing with Avon slick and wet race tyres. The Group C championship caters for cars from the golden era of sports car racing in the '80s and '90s and are some of the most up-to-date and sophisticated cars in historic motorsport. This is on top of Avon's involvement in Classic Endurance Racing which showcases cars from the golden age of endurance racing, 1966-1979. At grass roots level, Avon supports the popular MSA British Hillclimb Championship and has done since 2012.
While Cooper is the current supplier of two major international rallycross series, the Avon brand also has more than 20 years' involvement in rallycross, and is currently tyre supplier to the French National Rallycross Championship as well as championships throughout Scandinavia. Further afield, Avon is the tyre of choice in the Formula Ford 1600 and Formula Ford championships in New Zealand.
On track, Avon supported the healthy grids and close racing of the Roadsport series, Caterham's family of championships for drivers fresh from the Caterham Academy starter series, as well as more experienced drivers on the Supersport grid. All Roadsport cars are based on the Academy car and are all powered by 1.6-litre Ford Sigma engines which provide an impressive power to weight ratio. Phenomenal handling comes courtesy of the Avon ZZR for the R300, and ZZS all weather product for the rest, developed for Caterham racing. The Roadsport, Tracksport and Supersport grids form part of the highly successful Caterham Motorsport ladder.
Dakar Rally
Cooper Tire Europe 4×4 ambassador, Xavier Foj, competed in the 2016 Dakar Rally in a Toyota Land Cruiser 150 on the all new Discoverer STT Pro tyres from Cooper Tire. Foj had yet another successful Dakar campaign finishing second in the T2 category, and 34th overall.
Taking competitors on a 9,000 kilometre round-trip across Bolivia and back to Argentina, the Dakar finished in Rosario on 16 January. Including 13 stages of competition, over 15 days, with just one day of rest, the Dakar Rally is the ultimate test in motorsport. Foj Motorsport had entered the T2 category, which is a cross-country class for production vehicles. This is Foj's favourite category, having previously won the T2 class in 2012 and 2013.
When asked about how difficult the event is on the tyres, Foj commented, "Tyres are very, very important – particularly on the Dakar. They have to be resistant against the stones, highly durable in different conditions and at different pressures at high speed. Cooper's tyres are resilient at low pressures over rocky surfaces, which is vital."
In the United States, sanctioned by Indycar, the Mazda Road to Indy provides drivers, teams and sponsors an opportunity to gain valuable experience on and off the track while following a clear-cut path of progression through three development series: the Cooper Tires USF2000 Championship Powered by Mazda, the Pro Mazda Championship Presented by Cooper Tires and Indy Lights Presented by Cooper Tires. The popular IMSA Prototype Lites Powered by Mazda also elected to run with Cooper.