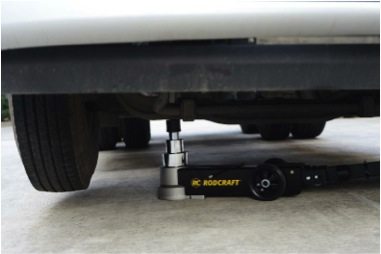 The new Rodcraft air-hydraulic-jacks
Rodcraft has introduced a new range of air-hydraulic-jacks for the heavy vehicle service market, adding to its wide portfolio of pneumatic tools and workshop equipment. Featuring a hydraulic system designed for high durability and ease of use, the new ATJ30-2, ATJ50-3 and ATJ80-2 jacks are suited to truck and bus maintenance applications.
The new Rodcraft air-hydraulic-jacks have a fast and high lifting capacity of up to 80 tonnes for high axles thanks to a high pressure pneumatic pump controlled from the handle.  They can lift up to 409 mm for the 30T model, 472 mm for the 50T model and 463 mm for the 80T model. They have a large base which provides excellent stability and can be easily transported thanks to a carrying handle on the cylinder and large wheels in the middle. A joystick and a swivelling inlet add to the ease of use while the long handlebar and control panel at the end of the grip allow the jack to be pushed far under the vehicle.
User safety is also paramount and the lowering speed of the new air-hydraulic-jacks is controlled through an automatic valve with pressure sensor. The hydraulic piston is protected with an anti-dust sealing, which increases reliability in workshop environments and improves the service life of the tools.
"We are continuously growing our workshop equipment offer to better meet customer expectations in the heavy vehicle segment," says Clement Baylion, Product marketing manager, Rodcraft. "This launch of air-hydraulic-jacks follows the recent introduction of our new wheel dollies for truck and bus applications, and they are a valuable addition to our portfolio, bringing more comfort and flexibility to users in all service and maintenance applications."
The 30T and 50T jacks are available now, and the 80T jack will be available early in 2017.
Category: Product News