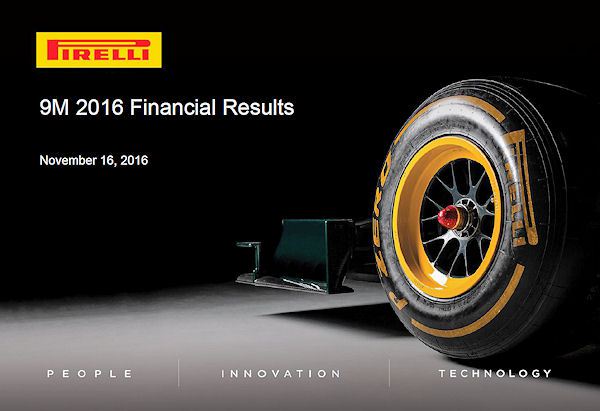 Pirelli income significantly down in first 9 months of year
Pirelli was unable to match last year's sales and, particularly, income during the first nine months of 2016. The Italian tyre maker's net sales declined 3.8 per cent year-on-year to €4.53 billion euros, a decline almost entirely the product of the deconsolidation of its business in Venezuela; excluding this factor, turnover declined just 0.1 per cent. Turnover for the Consumer business increased 4.8 per cent to €3.78 billion, and the proportion of this from premium products increased from 62.2 per cent last year to 64.6 per cent. Turnover within Pirelli's Industrial business declined 19.0 per cent year-on-year to €764.9 million.
Operating income shrank by 16.6 per cent year-on-year to €540.5 million in the first nine months of 2016, and would have been down 13.5 per cent even without taking Venezuela into account. The result here was impacted by restructuring costs and write-offs totaling €115 million. The operating margin fell from 13.8 per cent a year ago to 11.9 per cent during the reporting period. Net income for the first nine months of the year amounted to €22.7 million, a whopping 91.8 per cent below the €276.6 million earned a year earlier.
Further information regarding Pirelli's January to September results can be found in the Tyrepress.com company profiles and reports section.
Category: Company News