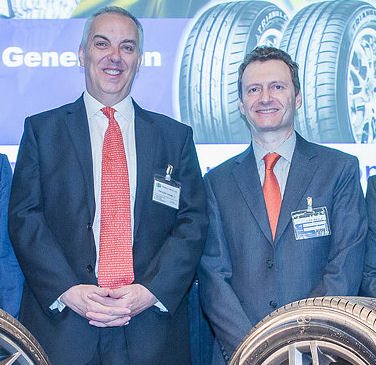 No longer at Triangle Tire: Pierre Cohade (l) and Jenner Powell
In the summer of 2015 we reported Triangle Tire's appointment of Pierre Cohade as the company's chief executive officer. At the time we wrote that the former Goodyear man (Cohade served as president of Goodyear Tire & Rubber's Asia Pacific business between October 2004 and December 2011) had joined China's second largest tyre maker in April that year and was tasked with extending Triangle Tire's globalisation plan.
He accomplished a core component of this in September 2016 with the company's IPO and debut on the Shanghai Stock Exchange. Now, after accompanying Triangle Tire on the path to becoming a publicly-traded entity, Cohade has moved on to seek new challenges, and Triangle Tire is looking for a new candidate to fill the office of chief executive officer.
Another recent departure from Triangle Tire is Jenner Powell, who had been with the Chinese manufacturer as global marketing vice-president since 2013 after switching from Goodyear. As of July this year he is back with his former employer, and currently holds the position of AP product director, consumer tyres, for Goodyear Tire Management Company (Shanghai).
Category: Career Tracks