Nexen Tire more profitable in Q3 2016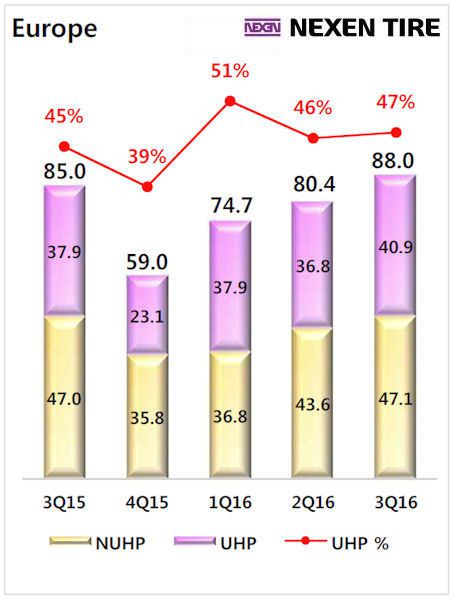 While turnover at Nexen Tire was just stable in the third quarter of this year, the third-largest South Korean tyre maker was much more profitable. Turnover amounted to KRW 470.2 billion (£322.4 million), down a whisker from the KRW 470.3 billion recorded a year earlier, however operating profit rose 28.4 per cent to KRW 65.4 billion (£44.9 million). Operating margin increased year-on-year from 11.0 per cent to 13.9 per cent. The company's ordinary profit also increased, up 102.3 percent to KRW 53.6 billion (£36.8 million).
According to information from Nexen Tire, turnover in Europe rose 3.5 per cent to KRW 88.0 billion (£60.3 million). The tyre maker reports that 47 per cent of turnover was achieved through sales of UHP tyres, up from 45 per cent a year earlier; around the world, the company made turnover of KRW 194.4 billion (£133.3 million) from UHP tyres. While Europe accounted for 18.7 per cent of Nexen Tire's entire turnover, Europe's share of UHP tyres amounted to 20.6 per cent and was thus slightly above average.