Latest car winner in GSF Car Parts' national promotion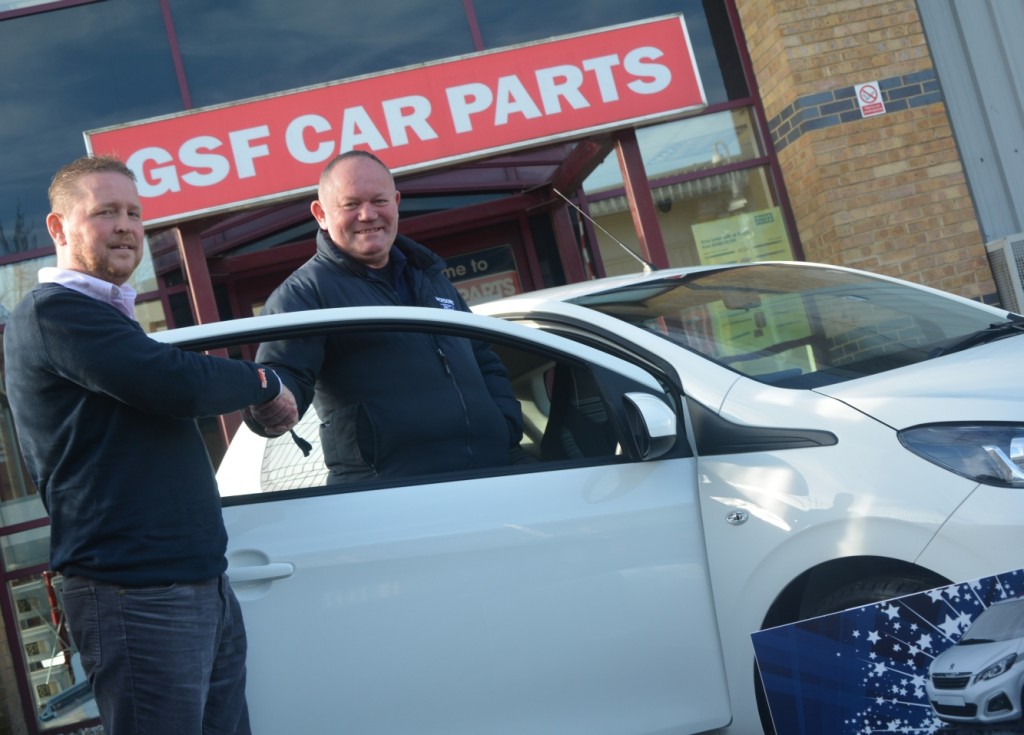 A Teddington-based garage has taken home the main prize of a brand-new Peugeot 108 in GSF Car Parts' biggest ever national incentive promotion which aims to support its thriving independent garage customer base.
Teddington Cars Ltd, an authorised Ford service and repair agent, was eligible for entry into the prize draw after achieving an agreed '3-star' target monthly spend through GSF, guaranteeing them a prize of up to £500 in Love2Shop vouchers.
Garage owner, Christopher Jackson said: "When my wife gave me the letter to say that I'd won, I thought, 'Brilliant, more vouchers!' as they really help out with the Christmas shopping!"
"But my wife said, 'No, I think it's a bit more than that!' When I realised I'd won the car too I couldn't believe it: it was brilliant but a total shock."
Mr Jackson plans to give the car to his 22-year old daughter, Ciara, who frequently helps out by answering the phones at the family-run garage when she isn't at university.
Amanda O'Reilly, head of marketing at GSF Car Parts, said: "This is the biggest promotion of its kind that we've run to date, and so far garages all over the country have been hitting the target that we set to be entered into the prize draw to win the car.
"We want to offer our congratulations to Mr Jackson and the Teddington Cars Ltd team. I'm sure his daughter will love this early Christmas present!"
The garage has been trading as Jacksons Ford for 16 years, employing three members of the Jackson family amongst its eight members of staff.
Offering MOTs, servicing, repairs and diagnostics, customers frequently travel from up to ten miles away for the excellent standard of care they receive from the team.
"We've used GSF's Heathrow branch ever since we opened 16 years ago, and I personally have been using them for approximately 25 years now," said Mr Jackson.
"Their delivery service is excellent: when you order a parcel it's delivered very quickly. I like that the parts are reliable, OE quality too."