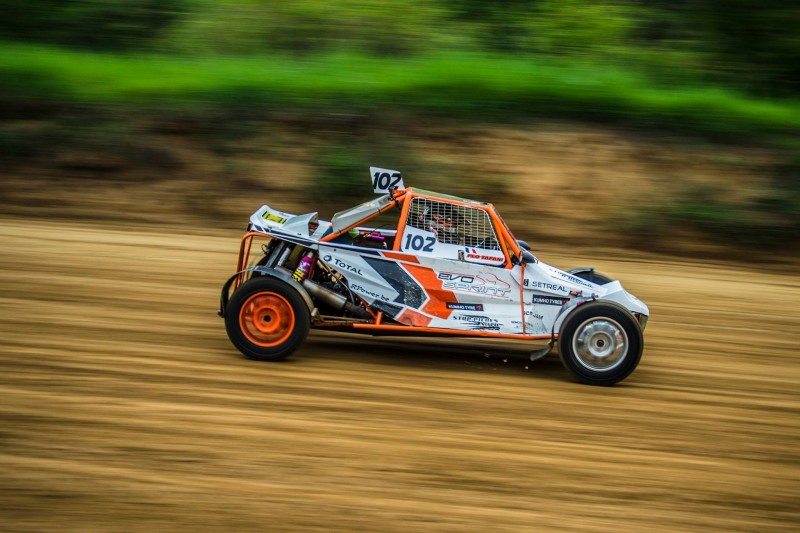 Florent Tafani's Peters Suzuki wins at Saint-Igny-De-Vers on Kumho to clinch the Buggy 1600cc class of the 2016 FIA Autocross Championship
An Autocross Championship class has been won for the second consecutive year on Kumho rubber, after Frenchman Florent Tafani brought his Peters Suzuki home ahead of 38 fellow competitors at his home circuit of Saint-Igny-De-Vers. The victory clinched the Buggy 1600cc class of the 2016 FIA Autocross Championship, completing three victories and eight podiums in the nine-round series. Tafani, who finished a frustrated runner-up in the same category last season, stuck with the soft compound K33 Kumho R800 tyres throughout the final weekend, re-cutting them when rain began to affect the mix of rough and muddy terrain.
There was success for Kumho in the Super Buggy class of the Series too, with last year's Buggy 1600 victor, Johnny Feuillade, claiming fifth place in this more powerful class. To obtain optimum traction he opted for a mix of compounds for his Kumho R800 tyres, placing the soft K33 ones on the front and harder K71 versions on the rear. The ever-competitive Feuillade was among the quickest runners throughout the season, but suffered too many collisions to repeat the success he'd previously enjoyed in the lower class.
Kumho's 2016 season
Kumho can reflect on another successful season in many branches of motorsport. Aside of the company's R800 performance in the Autocross Championship, Rick van Goethem won the Nürburgring Drift Cup on Kumho's street-legal V70A track day tyres; Kumho-shod vehicles claimed two class wins and two third places in the annual Nürburgring 24 Hour race; and Bob Fowden and Paul Wakely clinched the Welsh National Tarmacadam Rally Championship after a dominant season in their Kumho-shod Subaru Impreza WRC.
Kumho also continues to be the sole supplier of tyres to the Chinese Touring Car Championship and celebrated its 15th successive year as sole tyre supplier to the Zandvoort Masters of F3 meeting, which was this year won by Joel Eriksson.
Category: Motorsport