Goodyear hones Vector 4 Seasons' year-round capabilities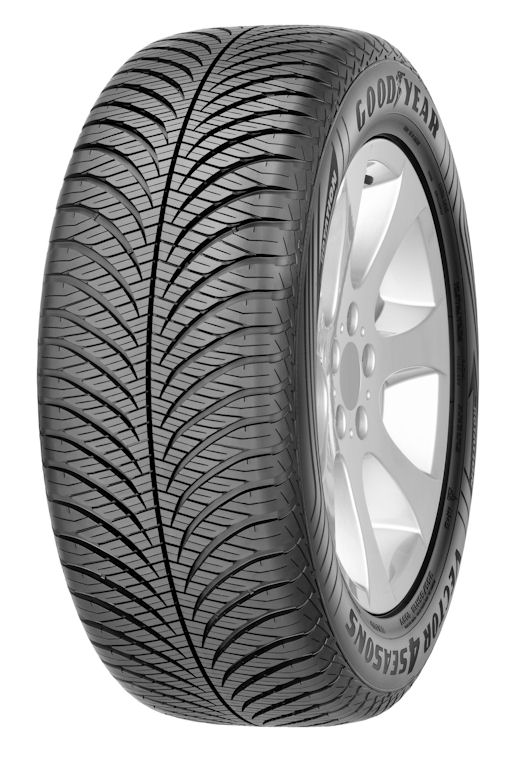 According to GfK sell-out data for the UK and five other key European markets, demand for all-season tyres in our region grew 37.7 per cent year-on-year in 2015. Last year's increase followed similar and even greater growth in the preceding few years, and this marked rise in demand means all-season tyres are a very appealing product for tyre makers. The company credited with creating the all-season segment now shares the market with a host of premium, mid-range and budget products, yet continued innovation over tyre generations has helped Goodyear retain a competitive edge. Last year, the tyre maker released the seventh generation of its 'Vector' all-season family, and these were joined by SUV products in April 2016.
By the time we announced the launch of the Vector 4Seasons Generation-2 in September 2015, the tyre had already captured the attention of Auto Express's tyre testers, been rated "exemplary" and taken top honours in the Auto Bild test of ten all-season tyres published that month, and gained approval as original equipment on Audi, Ford, Vauxhall/Opel and Renault models. Since then, the Goodyear tyre has continued to impress, being named winner of the test of nine all-season tyres conducted by German car magazine Gute Fahrt earlier this year. BMW and Mercedes-Benz have also begun fitting the tyre to their vehicles.
Differences between the Generation-2 and the original, 2009-launched Vector 4Seasons include a new arrangement of smaller and connected blocks – this is said to improve the tyre's overall performance on snow covered roads – and the inclusion of a wider circumferential groove in order to improve performance on icy roads.
Because, as Goodyear points out, "not all winters are dominated by snow", the ratio of silica mixed into the tread compound was increased with the change of Vector 4Seasons generation. This was done to improve performance on wet, slushy and icy roads compared to the predecessor tyre. The Vector 4Seasons Generation-2 also employs Goodyear's SmartTred polymer technology.
Goodyear claims better resistance against aquaplaning on wet and slushy roads compared with the previous generation tyre, as well as improved stability and handling on dry roads thanks to the stiffer tread its 3D sipes allow for. The tread pattern delivers excellent performance throughout the tyre's entire life, the tyre maker adds.
"When we developed the Vector 4Seasons range we looked at ensuring that the tyre could meet the most challenging road conditions – namely those in winter–while also being a true all-season tyre," shares Adam Butcher, Goodyear UK marketing manager. "Today, multiple independent and internal tyre tests confirm that we continue to lead in snow and ice capabilities, as well as the all-important wet category – all classic UK winter realities. Improving our consumers' safety in all conditions remains a top priority for Goodyear, and the Vector 4Seasons will continue to contribute to that promise by keeping consumers moving ahead and feeling safe all year long."
Goodyear states that the Vector 4Seasons Gen-2 offers reliability during the different seasons:
During spring and autumn, tyres need to provide grip on rainy and wet surface. In these circumstances, TÜV test results commissioned by Goodyear Dunlop in 2015 (205/55 R16V, testing conducted in France, Luxembourg and New Zealand) demonstrate that the Vector 4Seasons Gen-2 showed six per cent shorter braking distance on wet.
In autumn, a tyre needs extra resilience to slippery surfaces such as leaves that stick on the road. And during winter, ice and snow can create slippery surfaces. The aforementioned TÜV test results showed the Vector 4Seasons Gen-2 proved to have an eight per cent shorter braking distance on snowy roads compared to the average of its three leading competitors, the Michelin CrossClimate, Pirelli Cinturato All-Season and Vredestein Quatrac 5.
Gen-2 extended to SUVs
According to the ETRMA, sales of SUV and 4×4 tyres grew some 35 to 40 per cent in Europe (including Turkey) between 2010 and 2015. Goodyear calls this segment "the market's rising star" and has catered to demand here with the introduction of the Vector 4Seasons Gen-2 SUV. The tyre maker says the SUV version features the same characteristics as the passenger car tyre.