Fleet registrations propping up small growth in UK new car market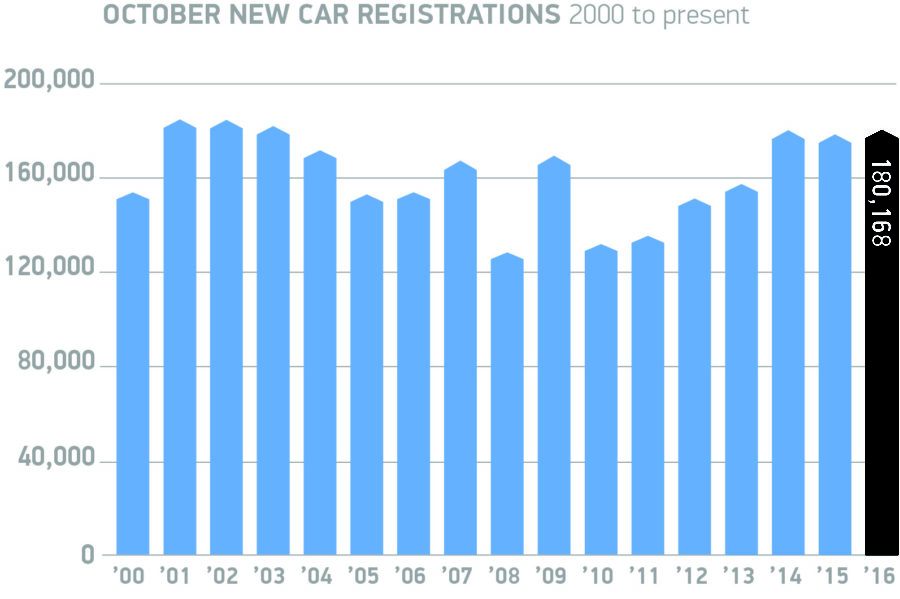 KPMG predicts continued modest gains for 2016, with slight contraction next year
The Society of Motor Manufacturers and Traders (SMMT) reports 180,168 new cars were registered in October, representing modest growth of 1.4 per cent. The growth was largely supported by fleet registrations, with private buyers continuing the trend of small declines. Registrations of alternatively fuelled vehicles continued to show growth in double digits, while the overall total for the year is also growing marginally, showing the resilience of the market. Analysis from KPMG suggests that predicted incremental price increases will not severely affect the market, though lower figures are anticipated in 2017.
The modest October growth follows what the SMMT calls a "bumper" plate-change month in September. The society said that fleet registrations have driven this growth, with demand rising 4.2 per cent, while registrations to private buyers fell by 1.1 per cent as the market, currently at an all-time high, stabilises after a lengthy period of growth. Alternatively fuelled vehicle registrations rose 12.4 per cent in October and 23.3 per cent in the year so far to 75,987 registrations – the highest ever level achieved in the first 10 months of the year. Year-to-date performance for the overall market remains ahead by 2.5 per cent, with 2,330,663 new cars registered.
Popular models in October largely follow year-to-date trends, with the Ford Fiesta continuing to dominate at the top of the table (7,806 registrations, 103,945 in 2016), while other B and C segment cars from Vauxhall, Volkswagen and Audi took a further six places in the top ten. The SUV/CUV segment continued to feature strongly, with the Nissan Qashqai (third, 4,945 registrations), Nissan Juke (ninth, 3,503), and Kia Sportage (tenth, 3,471) all in the top ten.
Mike Hawes, SMMT chief executive, said: "September's number plate change is always a hard act to follow so the market's growth in October, albeit moderate, is welcome news. Low interest rates, affordable finance packages and a range of exciting new models helped attract buyers into showrooms and we now look to government to ensure consumer and business confidence remains buoyant."
KPMG maintains forecast
John Leech, head of automotive at KPMG UK, suggested that the UK market may continue to show stability in the face of likely price increases.
"For the past six months we have seen a similar pattern of small declines in consumer sales, offset by steady growth in fleet sales. With prices set to increase by small incremental amounts over the next year, it is tempting to wonder if the consumer market might decline further. However, our analysis of Personal Car Plan returns gives confidence that this is unlikely as very few car buyers are facing negative equity in their car loans at present. Therefore we maintain our forecast of another all-time record year of car sales at 2.7 million in 2016 falling back a little in 2017."