Wingfoot Two: Second Goodyear blimp 'christened'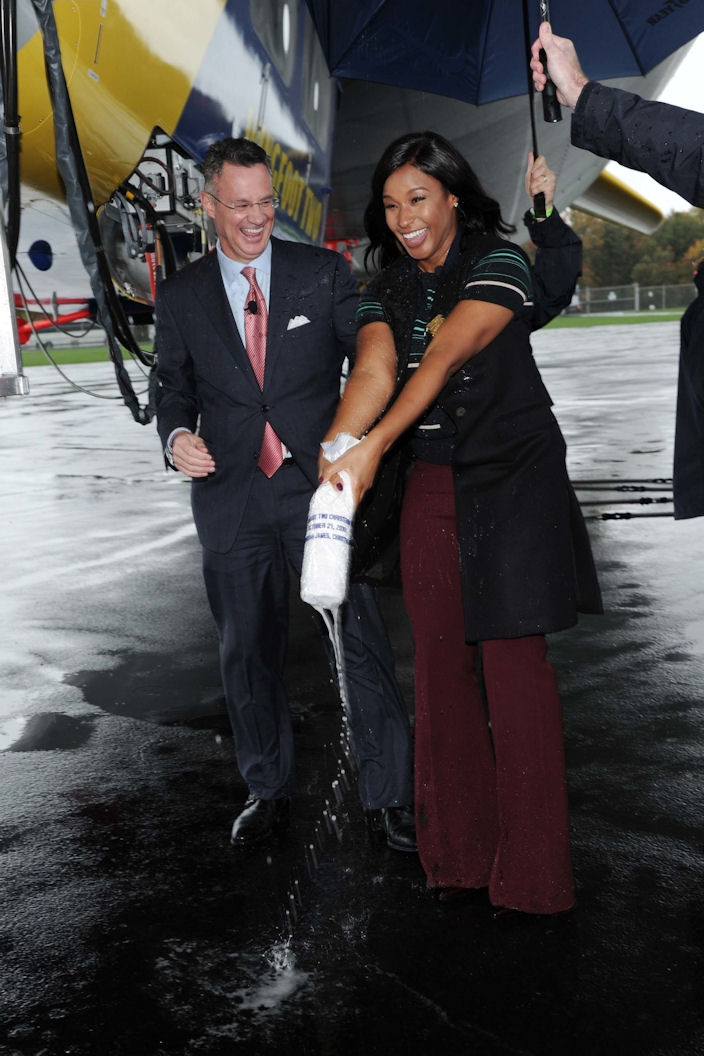 A crowd of more than 2,000 spectators looked on last Friday as a ceremonial bottle of champagne was broken over the nose of Goodyear Tire & Rubber's newest blimp and it was officially given the name Wingfoot Two. The 246 foot airship was built in the USA by German firm Zeppelin NT and is the second of the new-generation 'blimp' fleet to enter service. It and its older sibling the Wingfoot One, which took to the air in 2014, are 50 feet longer than the previous generation of blimps and, at 73 mph, can travel more than 20 mph faster.
Christening honours were performed by Savannah James, wife of NBA star LeBron James and a native of Goodyear's hometown, Akron. "To be part of such an incredible legacy of elite women who have been recognised through Goodyear's century-long tradition of christening the new blimps is a special moment for me, my family, and the entire Akron community," said James. "I hope this honour will inspire and uplift all kids growing up in Akron and encourage them to follow the Goodyear blimp's lead in believing the sky is truly the limit for each and every one of them."
James joins the ranks of accomplished women to christen Goodyear blimps, including aviator Amelia Earhart (1929) and astronaut Dr Sally Ride (2000). On hand to support Savannah was her husband, LeBron, her children and parents, and Wingfoot One's christener, Good Morning America anchor Robin Roberts.
"Savannah's Akron-born roots and passion for improving the local community made her a natural choice to christen Wingfoot Two," said Goodyear chairman, chief executive officer and president, Richard J. Kramer. "Goodyear has a long-standing tradition of enlisting strong, accomplished women to christen our iconic airships, and we are proud to welcome Savannah to the family."
Wingfoot Two sports a semi-rigid skeleton composed of aluminium and carbon fibre, compared to the soft, inflatable bodies used in previous fleets. The frame is now packed with 297,527 cubic feet (8,425 cubic metres) of non-flammable helium, making it more buoyant and capable of lifting 700 pounds more than its predecessors. For improved manoeuvrability, custom computer-controlled avionics better regulate engine thrust and movement. Other new features include enhanced aerial television coverage capabilities, increased flight range to reach more communities and cover more of fans' favourite events, and a larger in-flight passenger experience with unparalleled panoramic views.
"Wingfoot Two's induction into the blimp fleet marks an extraordinary milestone for our Goodyear airship program and our company," said Kramer "We're proud to have this majestic airship represent our 118-year history and our associates around the world."