Vipal Rubber exhibits at US truck show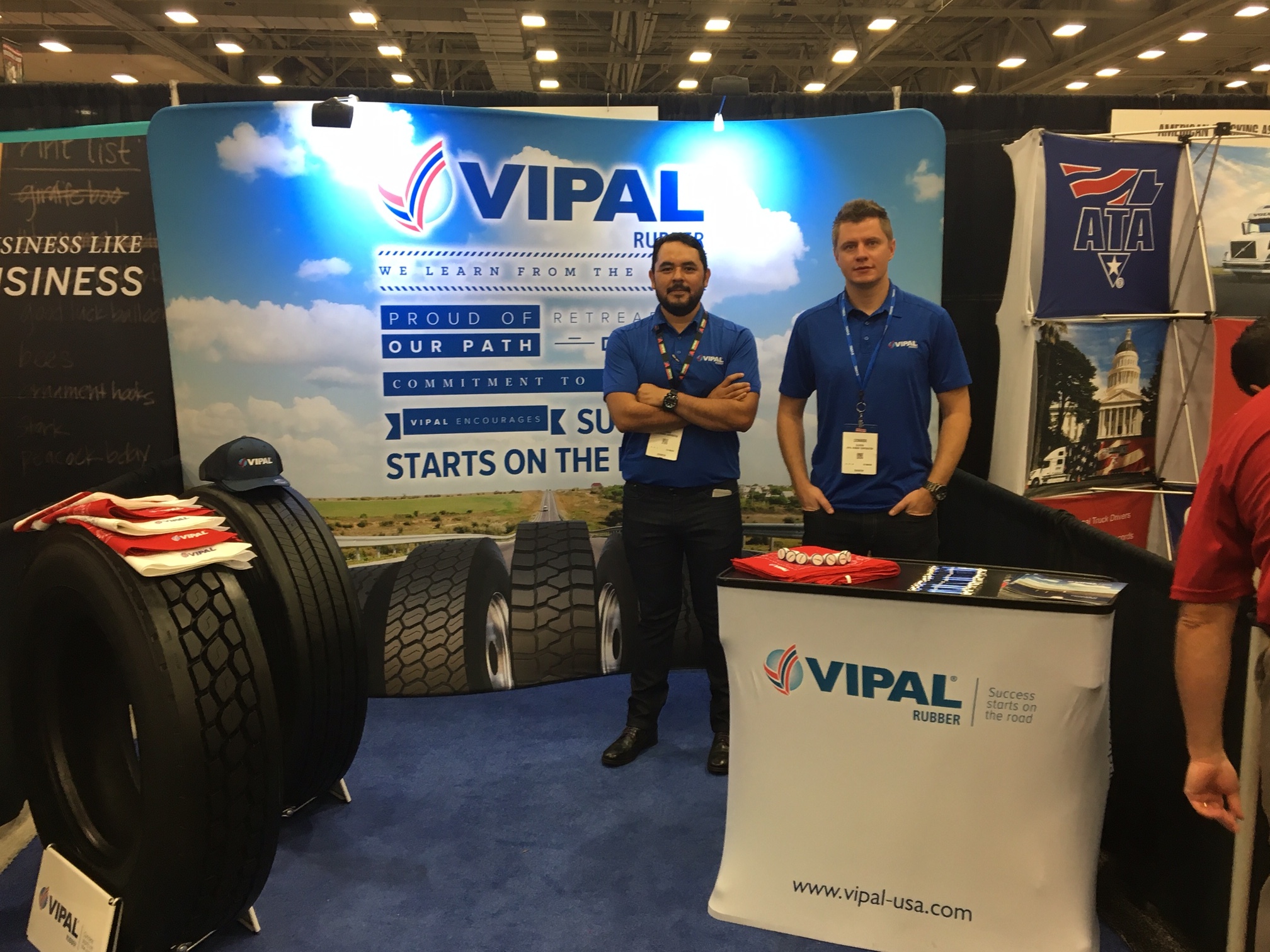 Global retreading supplier Vipal Rubber was one of 500 exhibitors in the truck fleet sector taking part in the Great American Trucking Show between 25 and 27 August in Dallas, Texas, USA. Representing Vipal were Leonardo Oliveira, Vipal Rubber's technical and sales representative, and Amaramh Velazquez, Vipal's sales representative in the Western United States. Vipal introduced tyres retreaded by its customer Panhandle Tire & Rubber, from Amarillo TX with its VT170 ECO and VL130 ECO treads, which focus on wet grip and wear resistance respectively.
Verified by the North American SmartWay Transport program, both treads offer fleets lower fuel consumption and high performance, according to Vipal, combined with lower emissions. Vipal was the first South American company to receive this validation from the US Environmental Protection Agency (EPA). In addition, Vipal's representatives discussed tyre retreading with end users.
More than 200 people visited Vipal's stand, including independent drivers, small fleet owners and interested parties. "Most visitors were from Texas, however the stand also welcomed professionals from Oklahoma, Arizona, New Mexico, Utah, South Carolina, Tennessee, California, Illinois, as well as from other countries such as Nigeria, New Zealand and Turkey," states Oliveira.
Present on every continent, Vipal opened its third distribution centre in the United States in 2013, seeking to fulfill the growth in exports to the North American market. Located in the city of Los Angeles, California, the centre has storage capacity for 1,500 pallet positions, covering Canada's West and Central regions as well as the whole North American West Coast and some states in Central United States. Along this line, the company has also dedicated one of its three plants in Brazil solely to export production. Vipal's two other US distribution centres are located in Miami, Florida, and Virginia Beach, Virginia.