US Open winner pairs with Bridgestone Trophy champions in pro-am golf event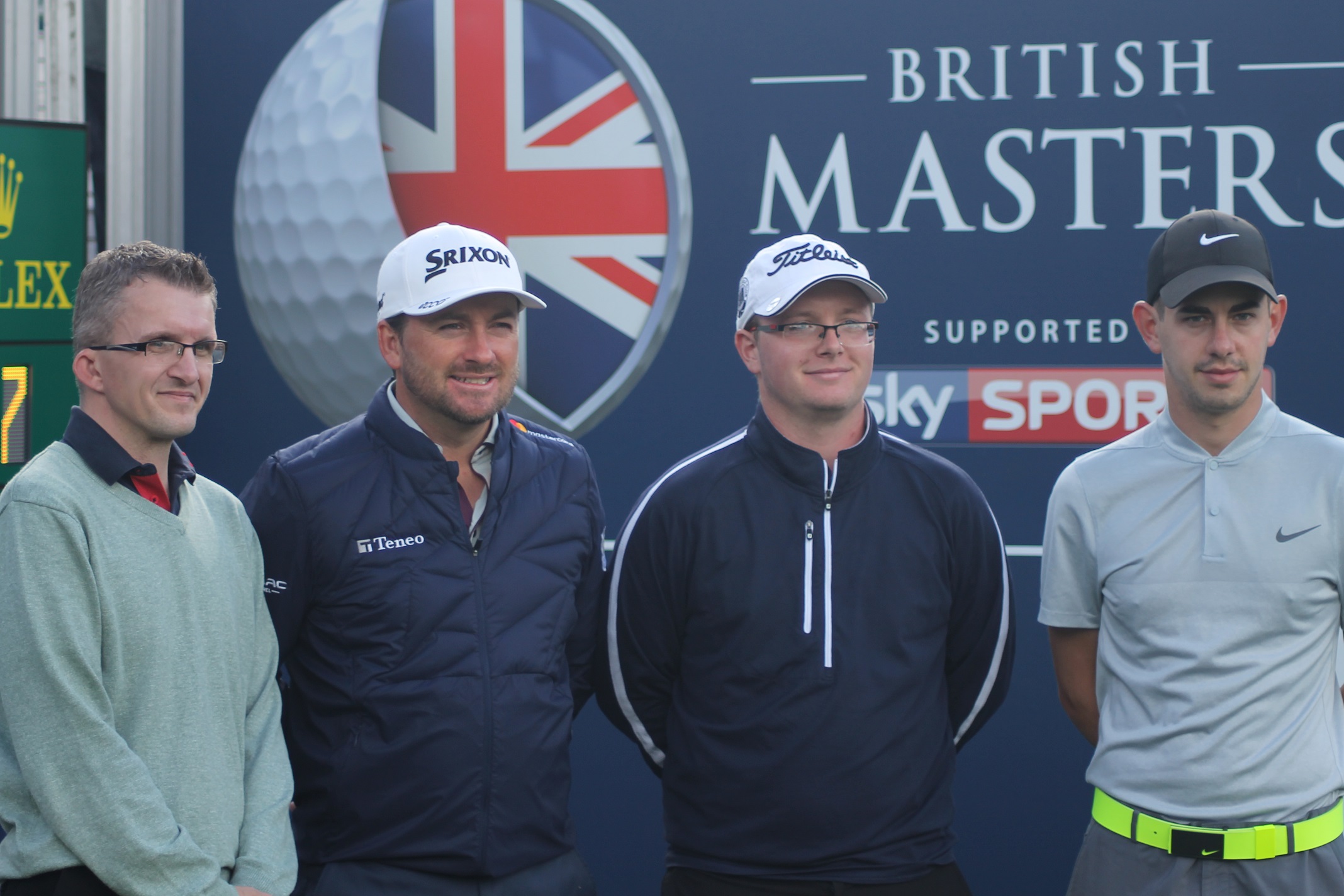 Bridgestone presented three amateur golfers the chance to play with a major winning star and household name of the sport at the pro-am of the British Masters, supported by Sky Sports. The Bridgestone DriveGuard Trophy winning trio teed off with 2010 US Open winner Graeme McDowell at The Grove. Carl Broomfield, Peter Carr and Zack Rosen beat up to 20,000 amateurs across England by winning the tyre manufacturer's amateur event, which engaged with around 200 clubs this year. Bridgestone Tyres was the official partner of the European Tour competition, eventually won by Swedish star Alex Noren.
Northern Irishman McDowell, who won the all-important point to clinch the Ryder Cup in 2010, was on hand to offer advice and tips to the three amateurs throughout the round. Rosen, playing off nine, said: "Graeme was a great bloke. He was really helpful throughout the round and settled us down. It was such a nerve-wracking experience stood on the first tee, but he was brilliant with us."
Broomfield, playing off five, added: "Graeme gave us tips during the round which were invaluable. They were memories that will last forever."
Carr, who plays off 18, said he was still pinching himself after sharing the course with 'G-Mac' for five hours. "He was reading the greens for us, helping us line up our putts and was walking from tee to green with us, chatting away. He was an absolute gentleman. He was very down to earth, made us feel at ease and was encouraging us from the first tee to the last putt on the 18th green."
All three players won their DriveGuard Trophy club events, before moving on to one of seven regional finals at Royal North Devon Golf Course. After prevailing there, they participated in the final of the DriveGuard Trophy at Heythrop Park, for the pro-am of the Bridgestone Challenge, the first English based Challenge Tour event to take place in four years.
The DriveGuard Trophy was named after the latest range of Bridgestone car tyres; in conjunction with TPMS, the DriveGuard offers runflat performance without the conditions required for fitting regular runflats.
Bridgestone's north region consumer sales and marketing manager Wim Belckx said: "We couldn't have wished for a better professional than Graeme, who was so selfless and engaging with Carl, Zack and Peter. He was constantly providing assistance and encouragement on the course and thanks to that, our three winners can reflect on a round of golf to treasure forever.
"We wanted to engage with a number of amateur players and then offer them the chance to play at the very top of the game. That was a very important part of our sponsorship and we certainly achieved this – with the help of a European Tour legend."