Sentury: electrostatic graphene tyre breaks through performance triangle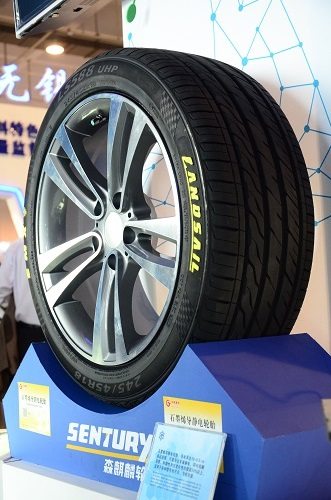 Sentury and Huagao launched their first electrostatic conducting graphene tyre at the 2016 China International Graphene Innovation Conference (GrapChina) on 22 September. The launch comes less than a month after Sentury and Huagao officially announced their cooperation on the product.
During the press conference, the engineers behind the Sentury graphene tyre (which is branded with the Landsail moniker), revealed that the latest test data shows its graphene-enhanced tyre offers 1.8 metre shorter stopping distances (a 6 per cent improvement on conventional technology); between 1.5 and 1.8 times conventional mileage; 1.5 improvement in rolling resistance; as well as a 10 per cent weight decrease. If anything like these improvements are achievable – it seems that graphene could be a wonder material in the tyre sector.
On 3 August 2016, Sentury Tire and Huagao revealed that the company produced its first trial production graphene tyre in October 2015, the 245/45 R18 LS588@RSC electrostatic tyre.
Sound like a one off? Apparently not. Back then, the production plan aimed at 5 million units in the first five years, with output set to increase to 10 million in the second five years. To quote the companies themselves: "Sentury and Huagao will lead the industrial revolution in graphene-tyre field". However, with Hengyu and Vittoria also on the scene (as well as others that haven't yet put their heads above the parapet), executing this ambitious vision will be quite a challenge.