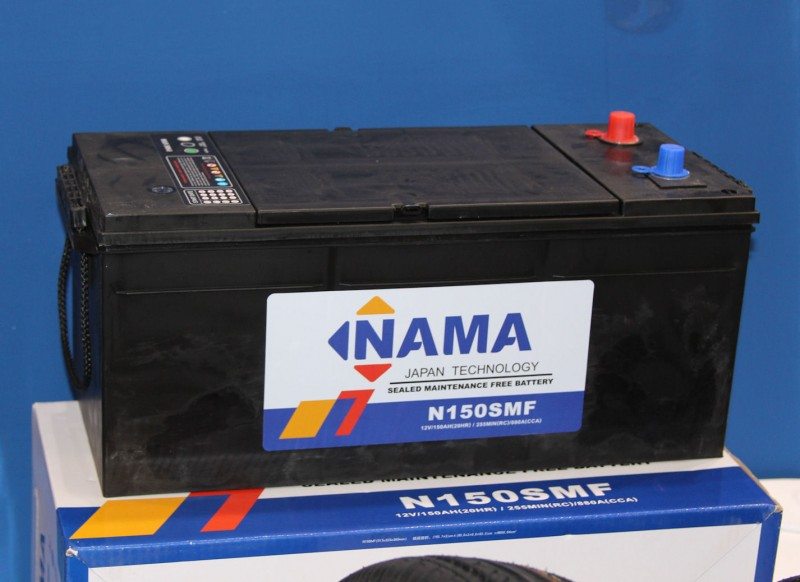 Qingdao Nama began selling batteries this year
Sometimes it pays to think small. Qingdao Nama Industrial Co. Ltd, manufacturer of the Nama tyre brand, has found a niche market on the lower end of the rim diameter scale. Tyres & Accessories spoke with company chief executive officer William Liu at CITExpo, and Liu showed off several diminutive products (the smallest had just a 10-inch rim diameter!) including a product aimed at the European market.
"We manufacture the 145/60R13 size especially for Europe," shares the chief executive officer. "It's a very new product, we began using the mould just this year and are now selling these tyres into the UK and Europe and are meeting with success. Not many products are available for these sizes." Liu added that Nama hopes to increase its market share in Europe by around 25 per cent within the next two years. The company's tyres are sold in the UK through Oak Tyres.
Qingdao Nama has also developed a range of truck tyres for Europe. These have been exported to our region for almost a year now, and the company is introducing new sizes. The current portfolio includes three steer patterns (NF43, NF35 and NF03+), two drive patterns (ND38 and ND28) as well as an all-position pattern (NA02).
A new business for Qingdao Nama is batteries; the company began selling these products this year, and claims that its batteries feature Japanese and South Korean technology. Liu shares that the Nama battery range is currently sold in Africa and some Middle East countries.
Qingdao Nama Industrial Co. Ltd was established in 2000 and, as its name more than suggests, is based in the Chinese city of Qingdao. As of 2014, the company's stated annual production capacity was 12 million passenger car radials, 1.2 million truck and bus radials and 40,000 OTR tyres. The firm claims to export to more than 100 countries around the world.
Category: Product News