January 2017 launch for Michelin Pilot Sport 4 S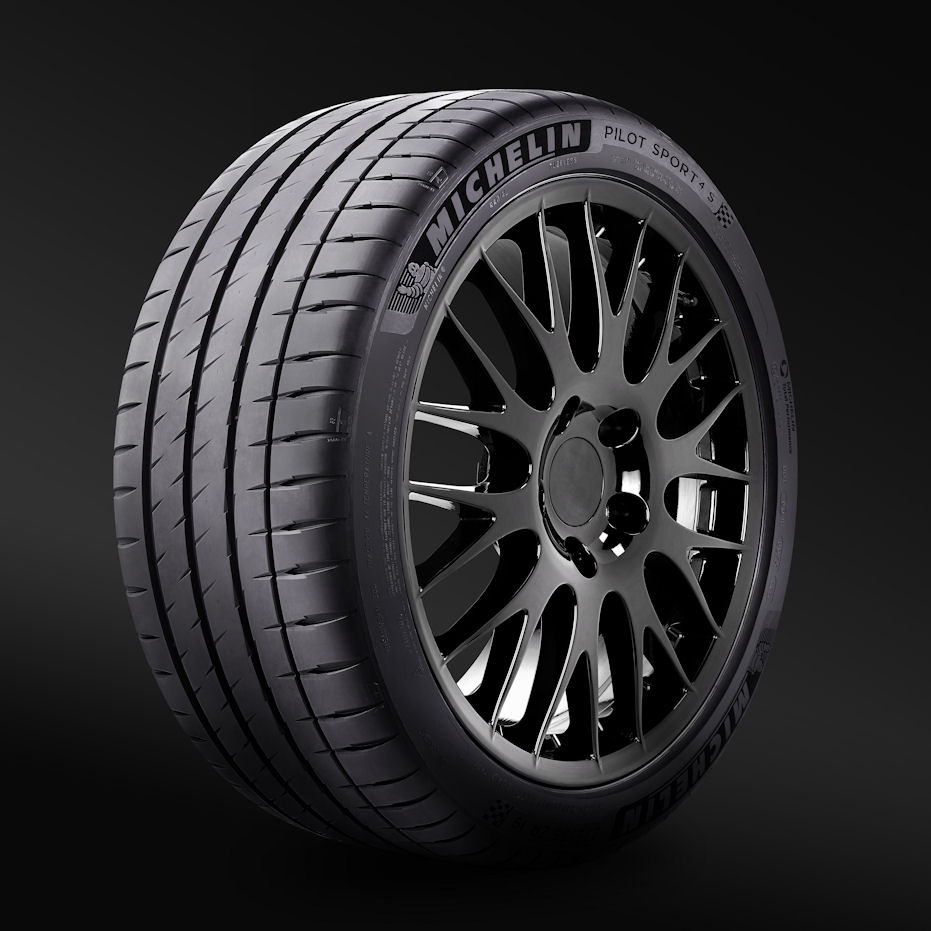 A replacement for the Michelin Pilot Super Sport will come to market next year. The new Michelin Pilot Sport 4 S will be available in Europe and the USA from January 2017; the Pilot Sport 4 S range will include 34 sizes for 19- and 20-inch rim diameters, a portfolio that Michelin says covers 92 per cent of the market. The tyre maker anticipates that the Pilot Sport 4 S will become "one of the most successful sports tyres ever designed by Michelin for the general public."
Michelin reports that the new tyre's braking performance on both wet and dry surfaces has benefitted from the use of 'bi-compound technology'. The outer part of the tread uses a new hybrid compound that promotes grip on dry ground while the inner part uses a new compound that contains silica and functional elastomers which allow the tyre to offer consistent grip on wet ground. Tests performed by TÜV SÜD in June and July 2016, using size 255/35-19 96Y XL tyres, show the Pilot Sport 4 S to have a shorter stopping distance than five premium competitors (Bridgestone Potenza S001, Continental SportContact 6, Dunlop Sport Maxx RT2, Goodyear Eagle F1 Asymmetric 3, Pirelli PZero Nero GT) on both dry and wet surfaces. In the dry, the Michelin tyre took 33.66 metres to come to a complete stop from 100 km/h, 0.83 metres less than the best result from the competition, while it beat the best competitor by 0.10 metres when stopping from 80 km/h in the wet, taking only 27.73 metres to brake.
The TÜV SÜD testers found that the Michelin Pilot Sport 4 S also delivered the best lap time on a 2.6 kilometre circuit, completing the course 0.40 seconds faster than the nearest competitor and 1.39 seconds quicker than the slowest – results that support Michelin's claim that its new tyre offers "exceptional steering precision and directional stability," providing "maximum performance and safety on all surfaces."
Longevity was evaluated by DEKRA Test Center, again using a size 255/35-19 96Y XL Michelin tyre and the five abovementioned rivals, and the Pilot Sport 4 S is said to have been the only tyre out of the six to break the 50,000 kilometre barrier. The Michelin rubber reportedly achieved a mileage of 52,032 kilometres, a distance exceeding that of its nearest rival, the Pirelli PZero Nero GT, by 2,602 kilometres, and 22,374 kilometres greater than the lowest mileage tyre in the test, the Continental SportContact 6.
According to Michelin, the Pilot Sport 4 S also "passes a new milestone in terms of reducing road noise, while providing good levels of driving comfort."