Firestone's Multiseason offering motorists all-season solutions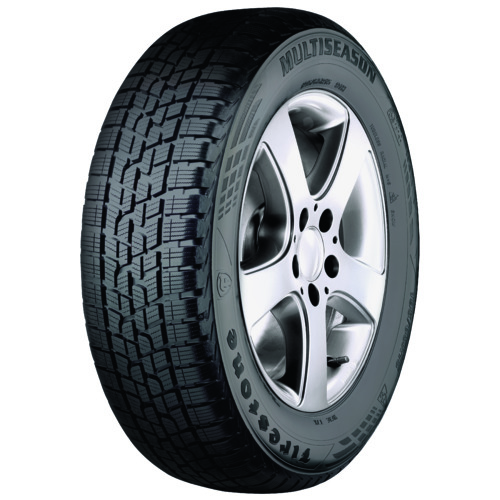 When it comes to choosing the most suitable tyre for the winter months ahead, Firestone declares that its Multiseason represents the most compelling proposition for motorists. It is, in the words of Firestone brand manager Stuart Attfield, the ideal "halfway house" to combat the unpredictable conditions so often encountered in the UK.
The Multiseason was launched last year and is the latest range to join the Firestone line-up, opening up a new segment for the brand in the process: "Made for drivers who enjoy the pleasure of the road but live in mild weather areas which may face variable weather conditions, the Firestone Multiseason focuses on being safe when motorists need it the most."
Bridgestone UK says the tyre is designed to offer solid wet braking capabilities and a high resistance to hydroplaning, coupled with proven traction on the snow – as demonstrated by the presence of the 3MPSF 'snowflake' mark. In addition, excellent stability for manoeuvring in cities is said to make the Multiseason an easy-going and forgiving all-year-round.
The initial launch portfolio of nine 14 to 16-inch rim diameter sizes has now been followed up by a further 16 sizes for 13 to 16-inch rim diameters, giving the Multiseason range coverage for over 90 per cent of European demand. "We have had a great deal of positive feedback from motorists about the Multiseason since its launch last year. It provides safety when motorists need it most, it is ready for any sudden weather changes and can provide sufficient traction and handling on snow," comments Attfield. "The Multiseason provides a high resistance to hydroplaning and offers great value for money, too. We are delighted to have extended the range, which means we can meet the needs of more and more motorists."
Over in the Bridgestone camp, the headline all-season product is the A001 Weather Control. The tyre has been developed for regions within Europe with moderate climates and wet, light winters – regions such as the UK. Bridgestone UK reports that the Bridgestone A001 Weather Control is "dynamic and easy to drive thanks to excellent front-rear balance, stable cornering and strong traction in both wet and dry." The tyre maker adds: "On wet roads, the specially designed lens-shaped blocks ensure smooth water evacuation with low water turbulence, reducing the risk of hydroplaning."
Bridgestone's brand manager Peter Coleman comments: "Where summer tyres fail to perform, the A001 takes motorists safely into cold and more challenging winter conditions. Bridgestone has also tuned the tread pattern for low noise and optimum road contact in all surface conditions."
Additional features of the A001 Weather Control include:
• All-weather Silica compound ensures dynamic, confident handling all year round, while balancing dry performance and tyre life
• Specially designed lens shape water evacuation blocks for reduced risk of hydroplaning
• High-grip sipes provide superior braking response even on cold and frozen roads.