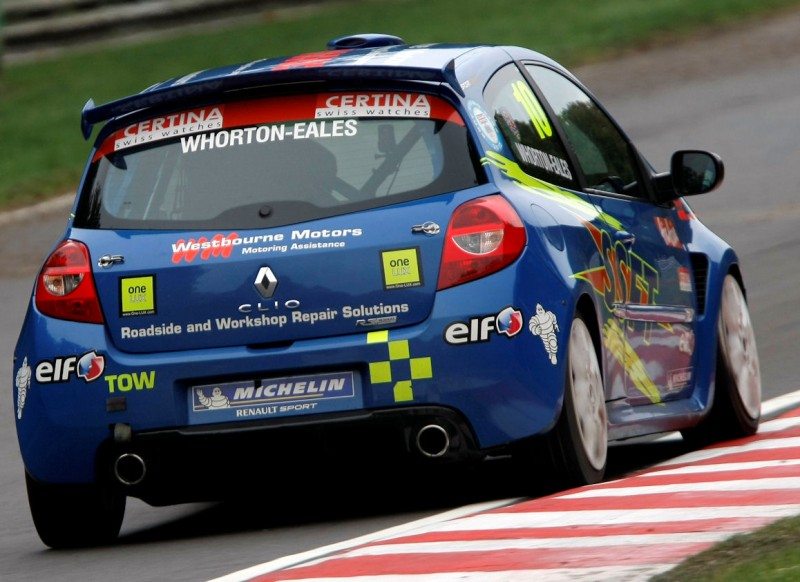 Michelin has been absent from the UK Clio Cup since 2012, and its return next year means all global Clio Cup championships will run on the same brand of tyre
Michelin will return as official tyre supplier to the Renault UK Clio Cup next year following four seasons of Dunlop tyre supply. The switch back to Michelin tyres brings the UK championship in line with international Clio Cup competition – as of 2017, the French tyre maker will supply all Clio Cup championships around the world, including those held in Benelux, Bohemia, Central Europe, China, Italy, Spain and Sweden.
Next year's season will be the first pairing of Michelin tyres and the UK Clio Cup's 'fourth generation' car, which was introduced in 2014. Race tyre logistics specialist Protyre Motorsport will handle transportation, delivery and fitting of tyres for the UK Clio Cup's teams and drivers. Michelin's S9D slick and P2G treaded wet weather tyres will be used in the championship.
"We are delighted to be renewing what was always a great partnership with the Renault UK Clio Cup which in the past two years has re-emerged as one of the true stand-out championships in British motor sport," comments Tim Hoare, Michelin's UK motorsport manager. "We look forward tremendously to providing teams and drivers with our trademark expert service – including technical support – and also greater performance on the track in terms of lap time and longevity. The UK Clio Cup's profile and dramatic racing also provides Michelin with a very exciting arena with which to further engage with huge numbers of racing enthusiasts in the UK – whether watching trackside or tuning in to see the action live on ITV4."
With Michelin's supply of tyres to and technical involvement with all of Renault's racing championships – including Formula Renault 2.0 and the Renault Sport Trophy (R.S 0.1) on the Continent – the tyre maker now commands, in the words of Renault UK championship motorsport manager Will Fewkes, "an unsurpassed understanding of Renault Sport Racing's products and philosophy globally.
"The UK Clio Cup thanks Dunlop for its contribution these past four years but now we look forward very much to renewing our very exciting partnership with Michelin in 2017 and beyond," Fewkes adds.
Michelin's return was also welcomed by Jeremy Townsend, communications director for Renault UK: "We and a number of our teams have always remained close with its technical personnel these past four years, so we know they will immediately feel right at home.
"This announcement of course follows the news that Michelin will also be tyre supplier to our new UK Clio Cup Junior championship which launches in 2017 for 14 to 17-year-olds meaning, importantly, we are able to provide continuity with those young drivers when they look to progress to the senior UK Clio Cup at British Touring Car events," Townsend continues. "Michelin's terrific success in a diverse range of motor sporting categories worldwide also potentially opens up new doors of opportunity for drivers in our two championships."
Category: Motorsport