Trelleborg ProgressiveTraction an OE option on Massey Ferguson 6718 S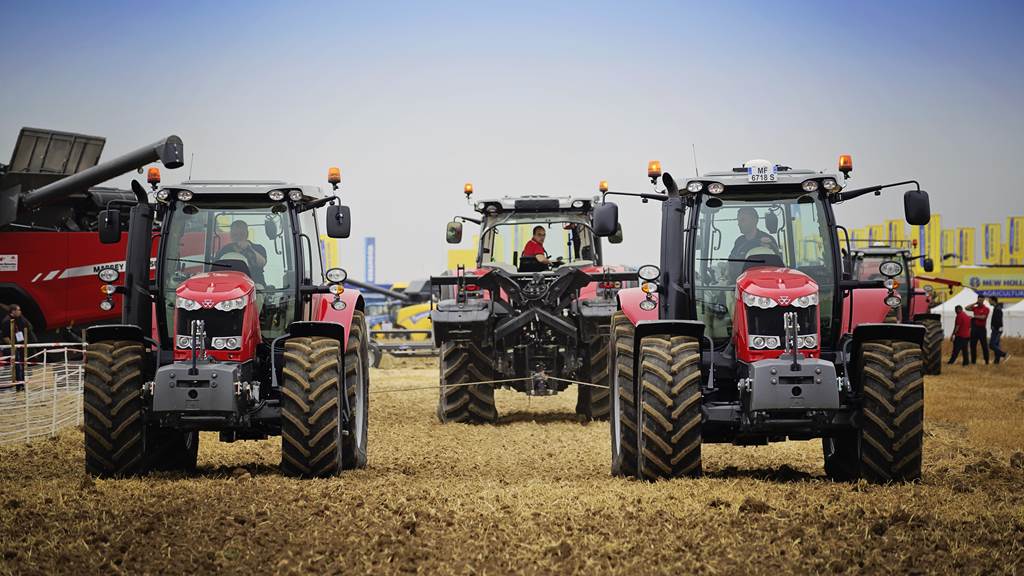 The recently-unveiled Massey Ferguson 6718 S is the world's first 200hp four-cylinder tractor, and Trelleborg has announced that two tyres from its ProgressiveTraction range have been selected as a factory-fitted tyre option for the model.
The TM700 and TM800 ProgressiveTraction will be available in exclusive sizes for fitment on the 6718 S, and according to Campbell Scott, director of marketing services at Massey Ferguson, ProgressiveTraction technology further improves the tractor's performance by efficiently transferring its power and torque to the ground. "Tested to the extreme in the Antarctica2 expedition, which took a standard MF 5610 wheeled tractor to the South Pole, these tyres are proven to improve driver comfort, boost output, reduce soil compaction and cut fuel consumption."
The Massey Ferguson 6718 S debuted at a press event on 5 September, and as part of this event Trelleborg organised a field demonstration to showcase the performance of its ProgressiveTraction technology. Two MF 6718S tractors – one fitted with TM800 ProgressiveTraction 650/65R38 and 540/65R28 tyres and the other with standard TM800 tyres – were run over a 150 metre track.
The two tractors were linked together with a metal wire to a third Massey Ferguson 8730 break tractor, which was fitted with Trelleborg TM1000 High Power tyres and was weighed down with a heavy ballast. The wire was linked to a pulley, enabling the tractor transferring the most power to the ground to pull away from the other one.
"Test results demonstrated the unbeatable performance of Trelleborg ProgressiveTraction," shares Lorenzo Ciferri, marketing director at Trelleborg Agricultural and Forestry Tires. "While its two points of anchorage boost grip, the new design greatly reduces tyre slippage to ensure maximum traction. The ProgressiveTraction technology boosts traction capability up to 18 per cent compared to the average of the market. The reduced working time per hectare results in lower emissions and premium cost efficiency."