Pirelli riders world champions in MXGP, MX2 Motocross World Championship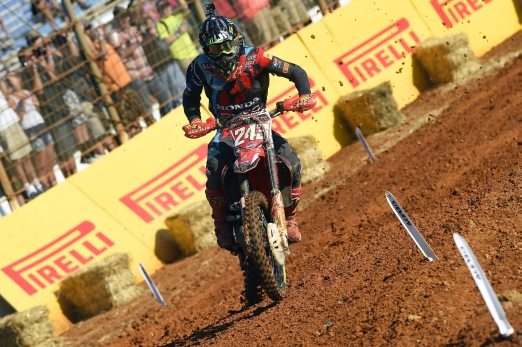 At the Grand Prix of Americas, riders on Pirelli motocross tyres have been crowned the new World Champions in MXGP and MX2 classes. Tim Gajser and Jeffrey Herlings sealed the titles with one race to go, bringing Pirelli's haul of titles in motocross up to 66. The Charlotte Motor Speedway hosted the seventeenth and penultimate round of the 2016 championship, though Hurricane Hermine forced organisers to condense the Grand Prix of the Americas on Saturday.
The first race was held in afternoon sun and the second with artificial lighting in the evening. The track, built inside the dirt track oval in North Carolina's premier motorsport facility, provided a hard and slippery surface that the majority of Pirelli riders faced with Scorpion MX32 Mid Soft, both front and rear.
Tim Gajser is the new world champion in MXGP class. The Slovenian was second overall in Charlotte and won the premier class crown in his debut season, repeating the distinction he achieved last year in MX2. Seven overall victories, fifteen moto wins and fifteen podium finishes are the impressive numbers that allowed Gajser to deliver Honda a title that the Japanese company had been missing since 2000 and when Frédéric Bolley last won. It was a good race for Jeremy Van Horebeek who finished in third place. Pirelli said the MXGP was a good outing for the new Scorpion MX32 mid hard front and for the new Scorpion Pro rear; tyres that permitted Justin Barcia to score the holeshot and finish second in the first heat.
After two seasons lost to injury, Jeffrey Herlings has regained the MX2 class crown; a title that he won in 2012 and again in 2013. The Dutchman, very fast on hard surfaces and almost unbeatable on the sand, literally dominated the championship and – if he had not missed three rounds due to a broken collarbone – could have closed the series even earlier. Charlotte saw an excellent race for Thomas Covington who finished fourth overall at his home Grand Prix.