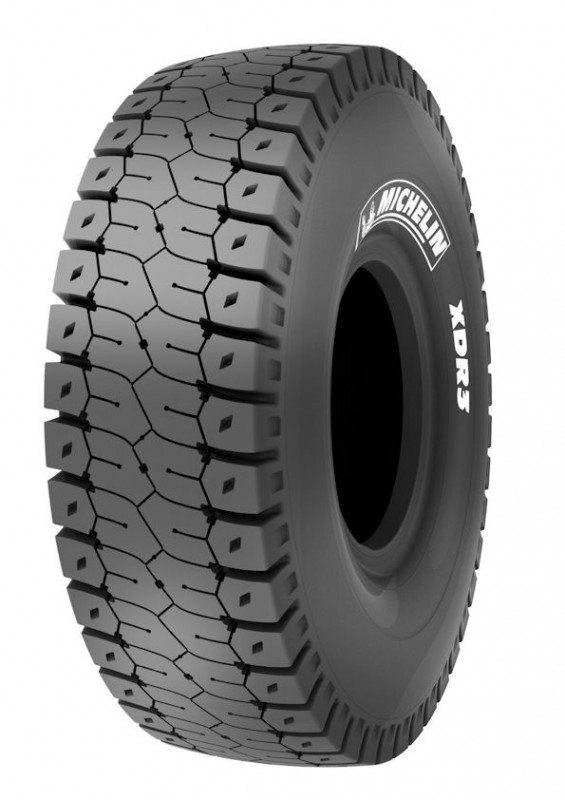 Michelin XDR3
Following six years of development and testing that involved the equivalent of circling the earth more than 625 times, Michelin has introduced a successor to its XDR2 mining tyre. The new XDR3 is available from this month in size 40.00 R 57, and as of January 2017 it will be joined in the range by a 53/80 R 63 fitment.
One of the main challenges mine operators face is to increase profitability through reducing per-tonne costs, and to achieve this saving without compromising safety in the workplace. Michelin says the XDR3 ticks these boxes by incorporating three innovations that in combination increase tyre life by a minimum of ten per cent compared to the XDR2. These innovations can be found in the tread pattern, rubber compound and the steel cables used in the casing.
Compared with its XDR2 pattern, the new generation tyre's tread pattern is said to offer better endurance due to improved heat dissipation capabilities, and Michelin claims this makes the tread area up to 8°C cooler. And as a greater volume of tread rubber is in contact with the ground, the wear is improved and a better load distribution achieved throughout the contact patch due to a lower contact pressure. Finally, interlocking shoulder blocks resist excessive movement during cornering and further reduce tyre wear.
An exclusive new mixing process reportedly ensures a more uniform composition of rubber compounds and a superior level of carbon black dispersion – factors that increase resistance to wear. The XDR3 is available in four types of compound; the MB4, MB, MC4 and MC compounds are each adapted to specific site conditions and usage requirements.
The high-strength steel cables used in the tyre's casing are said to be ten per cent stronger than in the XDR2 and are encapsulated in rubber to prevent the spread of corrosion within the casing. The Michelin XDR3 is also MEMS ready. This allows for the quick and easy installation of state-of-the-art data sensors for the real time capture and transmission of temperature and pressure information.
Category: Product News