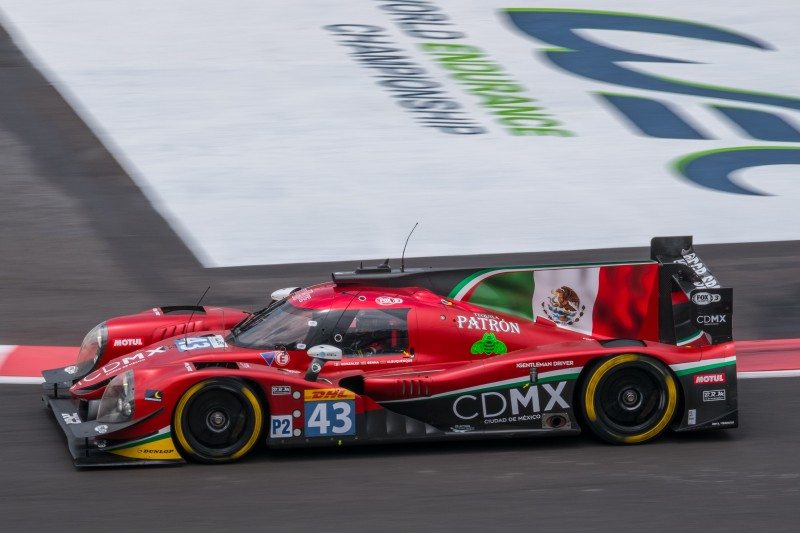 Dunlop teams' success in Mexico City WEC
The FIA World Endurance Championship (WEC) season midpoint race provided more exciting racing and wins, podiums and championship improvements for several Dunlop teams. The six hour race brought reasons to celebrate particularly for Aston Martin Racing who now lead the GT Manufacturers' Endurance Cup, and the new-for-2016 RGR Sport team who won their home race. Showers during the race added to the race tensions but gave all three classes the opportunity to use the versatile Dunlop intermediate option.
In the Dunlop shod LMP1 private teams, the ByKolles CLM took the initial lead in the LMP1 Privateer class, making a strong start to lie fifth overall in the race. The Rebellion R-One of Imperatori, Kraihamer and Tuscher then reclaimed the top spot and led the class to the end of the race, taking the class wins and fifth overall place at the flag.
In LMP2, RGR Sport took pole position on Friday and, spurred on by the strong home support, led the race for the opening stint. A traffic issue during the first pit-stop lost the Mexican team valuable time, dropping the Ricardo Gonzales/Filipe Albuquerque/Bruno Senna squad down the order. Both G-Drive Racing (Oreca) and #36 Signatech Alpine took turns leading, but with 20 minutes remaining the home team regained the lead in the Ligier, crossing the line less than two seconds ahead of the Alpine, with the rest of the field at least three laps behind. RGR Sport has closed the gap in the championship slightly, with the #36 Alpine still carrying the significant advantage of the double-points for their Le Mans 24 Hours win.
In LMGTE, Mexico marked the third Aston Martin/Dunlop win in the first year of the partnership and the first win in the Pro class. The victors were Darren Turner and Richie Stanaway in the #97 Aston Martin Vantage with Nicki Thiim and Marco Sørensen in the sister car finishing third. Between them, the pair of Vantages led every lap of the race. The results move the #95 Aston Martin to the lead in the GTE Pro Teams' championship, Aston Martin into the lead of the Manufacturer standings for the GT Pro class and Darren Turner into the lead in the GTE Pro driver rankings.
Mike McGregor, Dunlop manager testing & track support, said: "In terms of tyre strategies – the teams mainly used the medium tyre, but some opted for the soft and the majority also used the intermediate when the track was wet. The Rebellion's pace proved to be strong, particularly towards the end when the car was lapping only one second behind the factory cars. The development work is showing now, especially with the results with Aston Martin today. We have strong partnerships and it's good for the future. It's also great that RGR Sport won here – the fans have been amazing."
Category: Motorsport