Automotive cybersecurity market to reach $759M by 2023 – IHS Markit report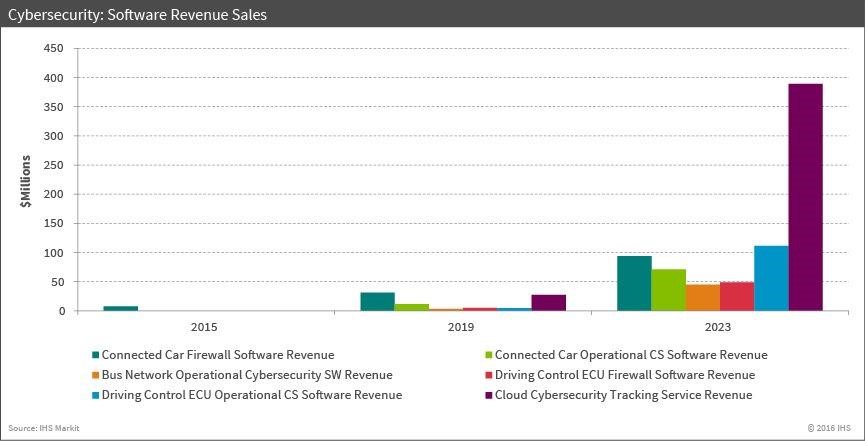 With nearly 112 million vehicles now connected around the world, the global market for automotive cybersecurity is expected to grow exponentially – to $759 million in 2023, according to a new report, 'Automotive Cybersecurity and Connected Car', from IHS Automotive, part of business information provider IHS Markit. Connected cars are defined as those that have a connection to the internet, through telematics, an on-board modem or a paired device in the vehicle, such as a mobile phone or other device.
One unfortunate result of connected car growth: vehicles are now more susceptible to cyberattacks through the many wireless and wired connections. Hackers are getting savvier in perpetrating cyberattacks – more easily and cost effectively– on connected vehicles. OEMs and suppliers are taking these threats seriously, with increased interest in developing and implementing cybersecurity solutions to address vulnerabilities and system design changes needed to accommodate them.
There are many software approaches to cybersecurity in the car. IHS Markit condenses these solutions into easy-to-understand segments in one of the first-ever automotive cybersecurity forecasts.
According to IHS Markit research, the automotive cybersecurity market will consist of two distinct segments. Some cybersecurity software programs will be installed on to the many special purpose computers and data buses that control and regulate in vehicle functions such as the airbags and fuel intake. These special computers are known in the industry as electronic control units (ECUs).
The other segment will be cybersecurity cloud services. These cloud services will track and manage whole fleets of vehicles through management service software that will track and assess irregularities, allowing carmakers to identify unauthorized attempts to attack or alter their vehicles. Most cars will have multiple cybersecurity software programs to protect the key ECUs in the car, which could be as many as 50-60 (ECUs in today's vehicles) according to IHS Markit estimates.
In 2023, 25 per cent of the vehicles sold globally will be equipped with cybersecurity cloud services. The revenue of cybersecurity cloud services will reach $389M globally in 2023, according to IHS Markit forecasts. Nearly 65 million vehicles are forecast to be subscribed to cybersecurity services by 2023.
The royalty revenue for the cybersecurity software programs will grow to $370 million in 2023 from less than $1 million in 2016. Due to multiple cybersecurity software programs per vehicle that use cybersecurity protection, nearly 150 million software programs will sold in 2023, according to IHS Markit forecasts.
"Cybersecurity will be one of the toughest challenges that the auto industry will face in the next decade or two," said Colin Bird, senior analyst, connected car consumer insights and software, apps and services (SAS) for IHS Markit and one of the report's co-authors. "Especially as more vehicles with telematics and embedded modems make connected cars an attractive target to cyber criminals, terrorists and nation states."
The US and Western Europe are expected to be the leading markets for these technology developments, given the propensity for connected cars in both regions. According to IHS Markit forecasts, 2018 will be the year of the largest growth, and it will taper somewhat in the years following. General Motors, BMW and Mercedes currently lead the implementation of cybersecurity solutions in their vehicles.
Today's suppliers are offering solutions that will improve security to wireless interfaces within a vehicle, like telematics control units (TCU's), and are also designing solutions that isolate safety critical systems from non-critical systems through the use of automotive network firewalls.  Longer term, integral electrical architectures within vehicles will be designed from the ground up with cybersecurity in mind. These future systems will likely have the capability to isolate critical safety systems – such as propulsion, braking and steering – from security systems that may handle personal or financial data. These solutions will include auto-grade Ethernet and domain isolation.
"Cybersecurity is becoming a key technology for the automotive industry as connected cars grow," said Egil Juliussen, PhD and research director for IHS Markit, and co-author of the report. "It is especially important for self-driving and driverless cars where it will be required."
IHS Markit estimates that, as a whole, up to 50 per cent of a vehicle's total development cost today is related to software or electronic components.  Today's mainstream vehicles are typically running 20-30 million lines of code on 50-60 electronic control units (ECUs) and more than 80 microprocessors within a vehicle, controlling everything from the infotainment system to critical software and powertrain functions. In addition, luxury vehicles may contain up to 50 million lines of code and up to 100 ECUs/MCUs.