World record for Federal-Mogul Motorparts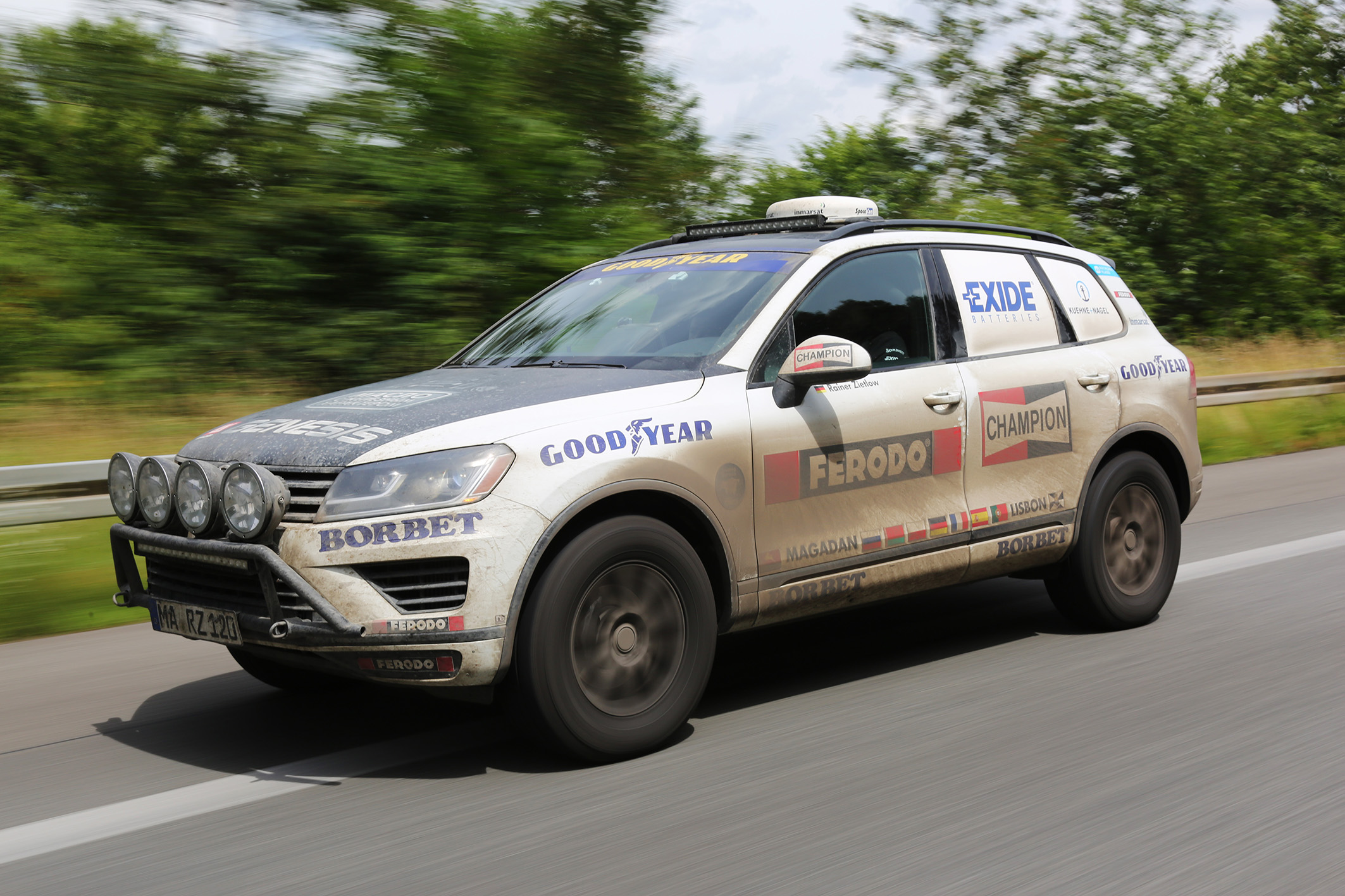 Champion and Ferodo products support Rainer Zietlow's drive from East Russia to Portugal in six days and nine hours
Federal-Mogul Motorparts, a division of Federal-Mogul Holdings Corporation, supplied its latest Ferodo and Champion products to a world record-breaking road trip. Covering over 15,000km across the entire Eurasian continent between the city of Magadan, Russia and the Portuguese capital, Lisbon, the drive was completed in six days, nine hours and 38 minutes, beating the previous record of eight days and 15 hours. The team drove a Volkswagen Touareg, which used Ferodo brake products and Champion glow plugs, filters and wipers.
German voyager Rainer Zietlow possesses three Guinness World Records and three long distance world records, including the longest drive around the world in a compressed natural gas (CNG) fueled vehicle, a high altitude world record, and the fastest car on Panamericana and between Norway and South Africa. Zietlow's team, started their journey on 1 July at 6:00am in Magadan. The drive covered the distance of 15,145km, crossing over 20 Russian regions, seven countries and 11 time zones.
"We are delighted to have been supported by Federal-Mogul Motorparts for this record attempt," said Zietlow. "Reliable performance and durability were crucial to success. We knew that by choosing Ferodo and Champion products, our robust Volkswagen Touareg was fitted with extensively tested, leading OE quality components that would not let us down."
For the last ten years, Rainer Zietlow has contributed to operations run by the international charity SOS Children's Villages, which supports orphans. The team visited one of these villages in Belarus to donate 10 Euro Cents per each kilometer driven for this international charity organization during the world record attempt.
The Volkswagen Touareg that was chosen for the trip is fitted with a 244 HP V6 TDI engine and has been customized at the Volkswagen plant in Bratislava, Slovakia. The list of enhancements includes brighter running lights, reinforced suspension and wheels that were originally developed specifically for the North Cape-to-Cape Town record. Two extra fuel tanks help increase the vehicle's range to an incredible 3000 km.
Most of the Touareg's components are completely standard, including those provided by FERODO and Champion. Any Volkswagen Touareg owner can easily purchase the same OE quality parts as those used for the world record-breaking car driven by Rainer Zietlow's team, such as Ferodo brake discs and pads, Champion wipers, glow plugs and filters.  Rainer Zietlow will exhibit the Touareg and his used brake discs at Automechanika from the 13th to 17th of September 2016 in Frankfurt.