Pirelli 2017 F1 tyres on track for 1st time in Vettel/Ferrari Fiorano test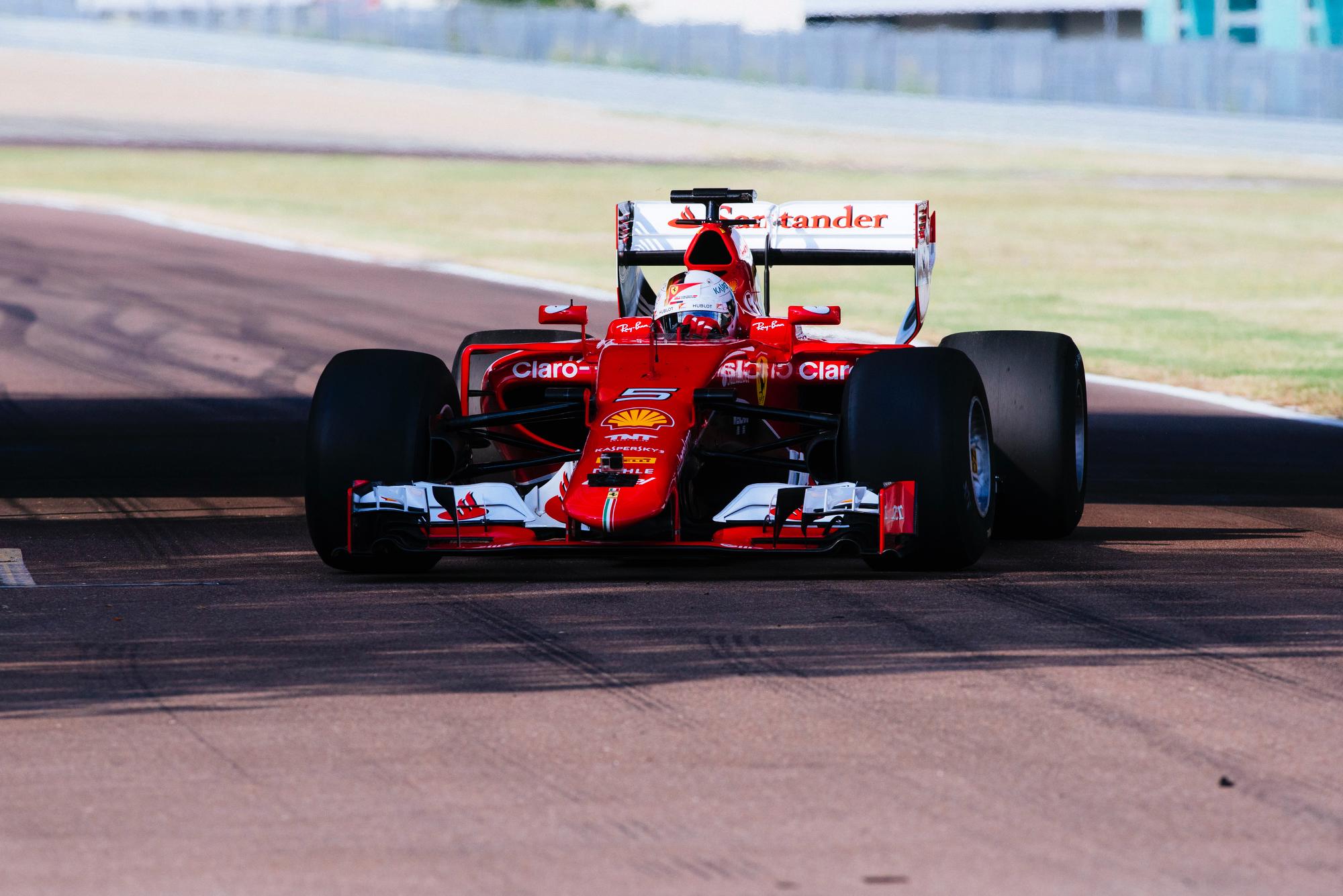 Pirelli's testing programme for its new wider P Zero Formula One tyres for 2017 has begun at Fiorano in Italy. Sebastian Vettel piloted a Ferrari SF15-T specifically modified to simulate the new aero rules and to accommodate tyres in 2017 size. The four-time world champion is testing on 1 August before handing the car over to Haas F1 driver Esteban Gutierrez on Tuesday 2 August.
Following a few installation laps on slick tyres in the morning, Vettel tried wide Pirelli intermediate and full wet tyres on an artificially dampened surface. With a tread that is 25 per cent wider than the current size, Pirelli said particular care is required when it comes to research and development of wet weather tyres, capable of evacuating more water. The development work on both intermediate and full wet tyres will be continued by Gutierrez on Tuesday.
The 2017 rules mandate the following dimensions for slick tyres:
305/670-13 at the front (currently 245/660-13)
405/670-13 at the rear (currently 325/660-13)
The Cinturato intermediate will have a diameter of 675 mm while the Cinturato wet will have a diameter of 680 mm. The wheel size remains unchanged at 13".
Red Bull will be the first team to try the 2017 size slick F1 tyres. This dry weather test will take place on 3-4 August at Mugello in Italy, and it will mark the final test before the summer break. The development programme will begin again in September, when Mercedes (the third Team providing a modified car for testing purposes) will take to the track at Paul Ricard in France.
Each of the three Teams taking part (Mercedes, Ferrari and Red Bull) will undertake a total of eight days of testing per car between now and the end of November. Each Team will have exactly the same amount of testing as each other for wet and intermediate tyres (two days) as well as slick tyres (six days). The final day of testing for all three Teams will be in Abu Dhabi on Tuesday 29 November, two days after the final grand prix of the 2016 season.