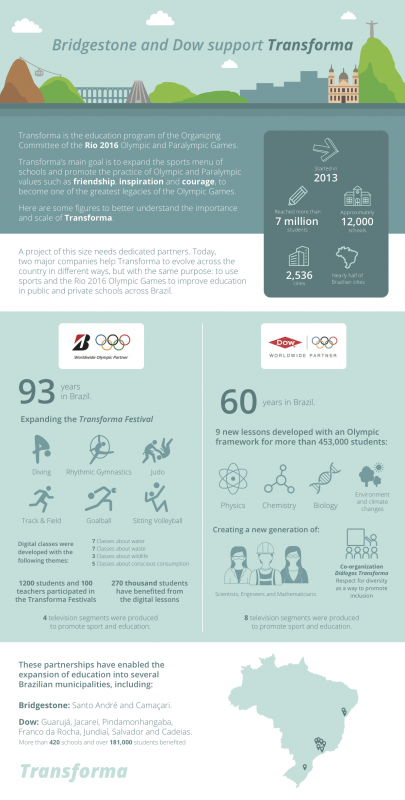 Bridgestone and Dow supporting Rio 2016 education programme
Two Worldwide Olympic Partners are collaborating to expand the scope and impact of Transforma, the official education programme of the Rio 2016 Olympic and Paralympic Games. With support from Bridgestone Corporation and The Dow Chemical Company, the Rio Organizing Committee for the Olympic Games has extended Transforma so that it now reaches some 7 million students in more than 12,000 schools across 2,500 cities and towns in Brazil.
Through Bridgestone's support, Transforma has provided training sessions to physical education teachers in Santo André and Camaçari – two cities in which the company maintains operations. The training sessions were led by Rio 2016 sports professionals and offered new techniques for using Olympic sports to create interactive educational opportunities.
In addition, Bridgestone has reached more than 270,000 students through the creation of digital training modules for sustainability practices related to water, waste, animals and conscious consumption, as well as four television programmes focused on sport and education. Bridgestone also helped organise sports festivals in these two communities that helped more than 1,200 students and 100 teachers engage with new Olympic and Paralympic sports, including diving, badminton, judo, table tennis and karate, among others.
"Bridgestone has a history of supporting sports in Brazil, and we are proud that through our Worldwide Olympic Partnership we can help advance a social legacy through sports and education," said Fabio Fossen, president of Bridgestone Brazil. "We are honoured to collaborate with a fellow TOP to support Transforma in this important work and bring the excitement of the Olympic Games beyond Rio de Janeiro."
Aligning with its 2025 Sustainability Goals, Dow served as the premier corporate partner of Transforma and provided content focused on science and sport. Dow scientists worked in partnership with Rio 2016 educators to develop nine digital classes in physics, chemistry, biology and environmental studies that are taught through the lens of the Olympic Games.
Dow's support helped Transforma expand to seven additional cities in which Dow has operations, including Guarujá, Jacareí, Pindamonhangaba, Franco da Rocha, Jundiaí, Salvador and Candeias. As a result of this expanded reach, educators in 420 additional schools and 181,000 students benefited from training opportunities and sports festivals.
"The Olympic Movement and Transforma demonstrate the potential of sport and science, contributing to the lasting improvement of science education across Brazil," said Fabian Gil, president of Dow Latin America. "In 2016, with the first Olympic Games on our home soil, Dow celebrates 60 years in Brazil. We are able to go beyond our sustainable solutions contributing to the success of the Games, and demonstrate our commitment to the communities we call home and to building the workforce of tomorrow."
"Transforma's partnerships with Dow and Bridgestone helped our programme reach a larger number of students and teachers throughout the country," stated Vanderson Berbart, education manager of Rio 2016. "A programme with strong partners will no doubt help in the process of building an educational legacy to Brazil."
Category: International News