ATG introduces Galaxy Yardmaster SDS forklift tyre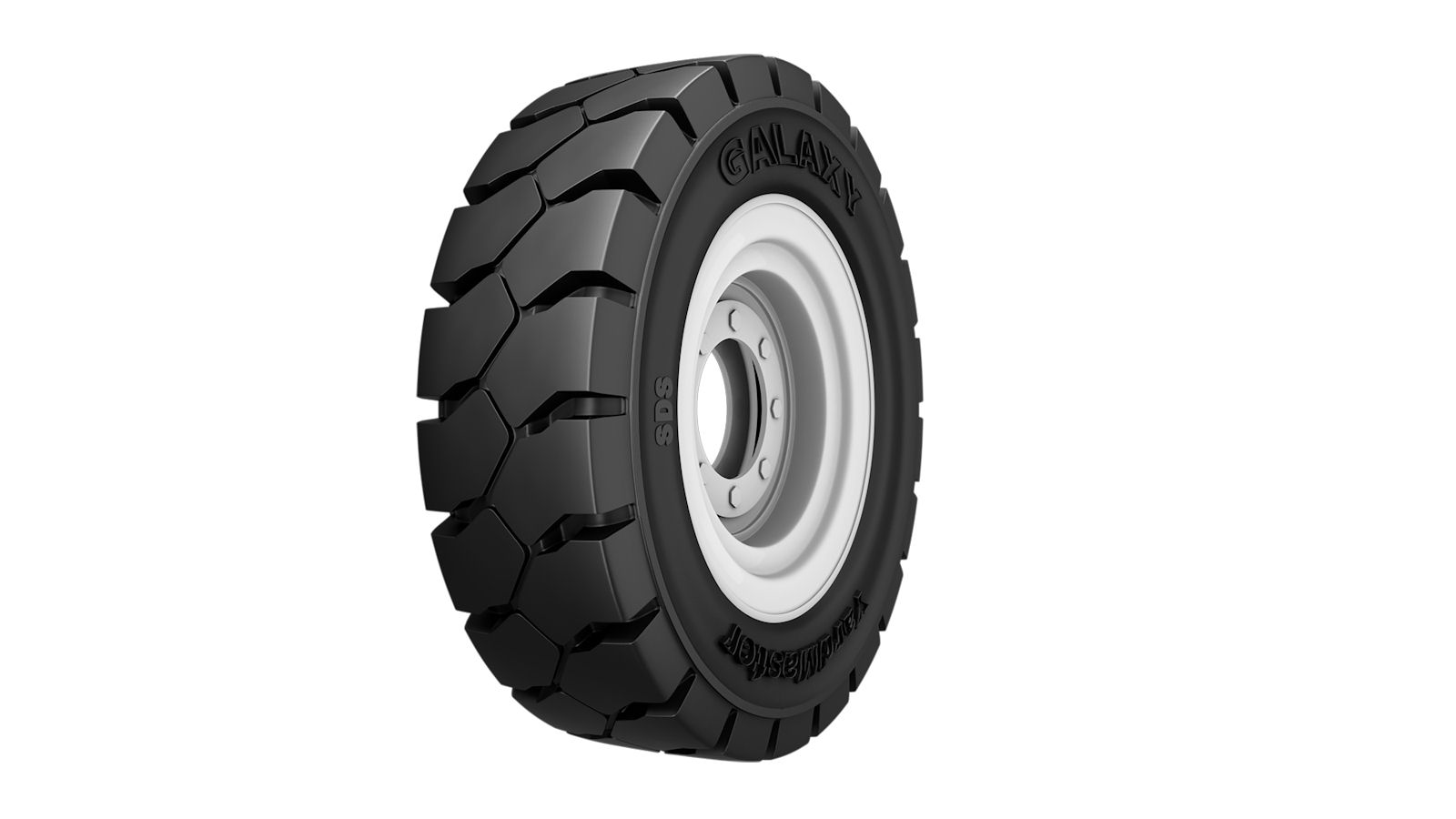 All hail! Alliance Tire Group (ATG) opines that if there was a king of forklift tyres, then the Galaxy Yardmaster SDS would have "excellent chances to acquire that position." This regal range of solid tyres is being rolled out in sizes suited for fitment on forklifts and container handling carts weighing from 1 to 5.5 tonnes; the first dimensions came to market in April, and ATG indicates that the full portfolio will be available by the end of next month.
The Galaxy Yardmaster SDS, shares ATG, is developed and designed for warehouse operations, loading and unloading work, shop-floor as well as port and yard operations. "Be it smooth concrete surfaces which require maximum stability, damaged concrete floors or paved surfaces in combination with metallic loading ramps which require excellent grip, abrasive tarred surfaces which require low wear features, or obstructed aisles in warehouses which challenge tyre sidewalls – the Yardmaster is the answer for such demanding working environments," writes the manufacturer.
The 'SDS' in the tyre's name stands for Severe Duty Solid, and ATG says the ruggedness implied in this suffix "virtually eliminates the possibility of equipment breakdown due to punctures, thus ensuring maximum equipment uptime." The tyre maker reports that the tyre's profile "provides high lateral load carrying capacity, stability and traction," whilst the smooth, flat tread "ensures even wear on hard surfaces." It claims an increase in both tread life and grip thanks to a large industrial block pattern that features improved tread block reinforcements, while the tyre's central bar "stabilises the tread blocks in extreme working conditions."
As for the compound used, ATG says it "ensures improved cut, chip and wear resistance as well as minimum heat build-up when compared to competitors' tyres." The compound, the tyre maker adds, is present in a 'three-stage-construction': "The tread compound maximises tyre life, the centre compound ensures a smooth, cushioned ride and operator comfort, whilst the base compound provides stability and allows for efficient road transfer." Steel wire creel beads across the entire section of the tyre ensure the necessary strength to handle high torque while elimination slippage of the rim.
Based on testing of the Galaxy Yardmaster SDS, ATG reports that operators can expect a lifespan three to four times longer than that of a pneumatic tyre. As the Galaxy Yardmaster SDS costs around twice the price of a comparable pneumatic tyre, ATG notes that it is the "smarter choice."