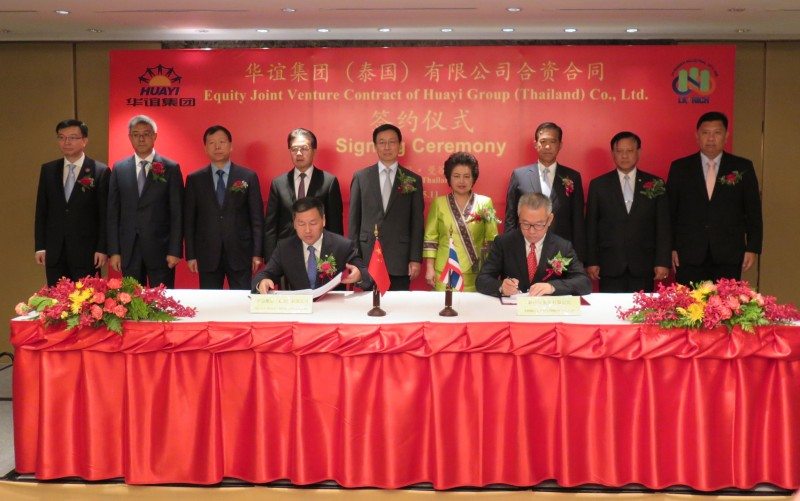 Executives from Shanghai Huayi (l) and Tribeca signing the joint venture agreement in May
Under China's 'Belt and Road' development strategy (Silk Road Economic Belt and the 21st-century Maritime Silk Road, to give its full name), excess production capacity within the country is being exported to locations within Eurasia, Asia and parts of Africa. An advantage of this policy for tyre makers is that setting up production facilities outside of China offers a means of avoiding the tariffs applied to Chinese-made tyres in numerous markets. Shanghai Huayi (Group) Company, majority owner of Shanghai Huayi Group Corporation Limited (the entity known until recently as Double Coin Holdings), signed a deal in May that will see it supply the North American and Southeast Asian markets with tyres produced at a brand new factory in Thailand.
The joint venture agreement between Shanghai Huayi (Group) Company and Thai firm Tribeca Enterprise Co. Ltd. was signed on 16 May and marks the creation of Huayi Group (Thailand). The joint venture company will operate a new plant that will be built in the LK Rubber Industrial City Hub (LK-RICH), a 391 hectare rubber estate set up by Tribeca Enterprise in Thailand's Rayong province. The two parties will invest a total of US$300 million to create a facility capable of manufacturing 1.5 million truck and bus radials and 50,000 industrial tyres per annum.
The Huayi Group (Thailand) facility is a project that fits in with China's 13th Five-Year Plan (which the country's government explains in song here), and Shanghai Huayi (Group) describes it as an "important step" in its internationalisation strategy. The factory will be built on a 30 hectare site and employ some 800 people when operational. Shanghai Huayi (Group) expects the joint venture company's annual turnover to be somewhere in the vicinity of US$400 million.
LK-RICH, located some 150 kilometres southeast of Bangkok, is said to be the first industrial estate in Thailand specifically set up for the rubber industry. "We provide an integrated manufacturing supply chain, a most competitive new business environment and a hub for rubber-related industry," explains the estate's website. Sentury Tire became the first manufacturer to produce tyres at the site when the first Landsail tyres rolled off the line in September 2015, and LK-RICH reports that several well-known Chinese producers and a "famous American tyre manufacturer" have also inspected the estate.
Category: Company News, International News