Cheng Shin chairman talks Maxxis globalisation strategies on Reifen stand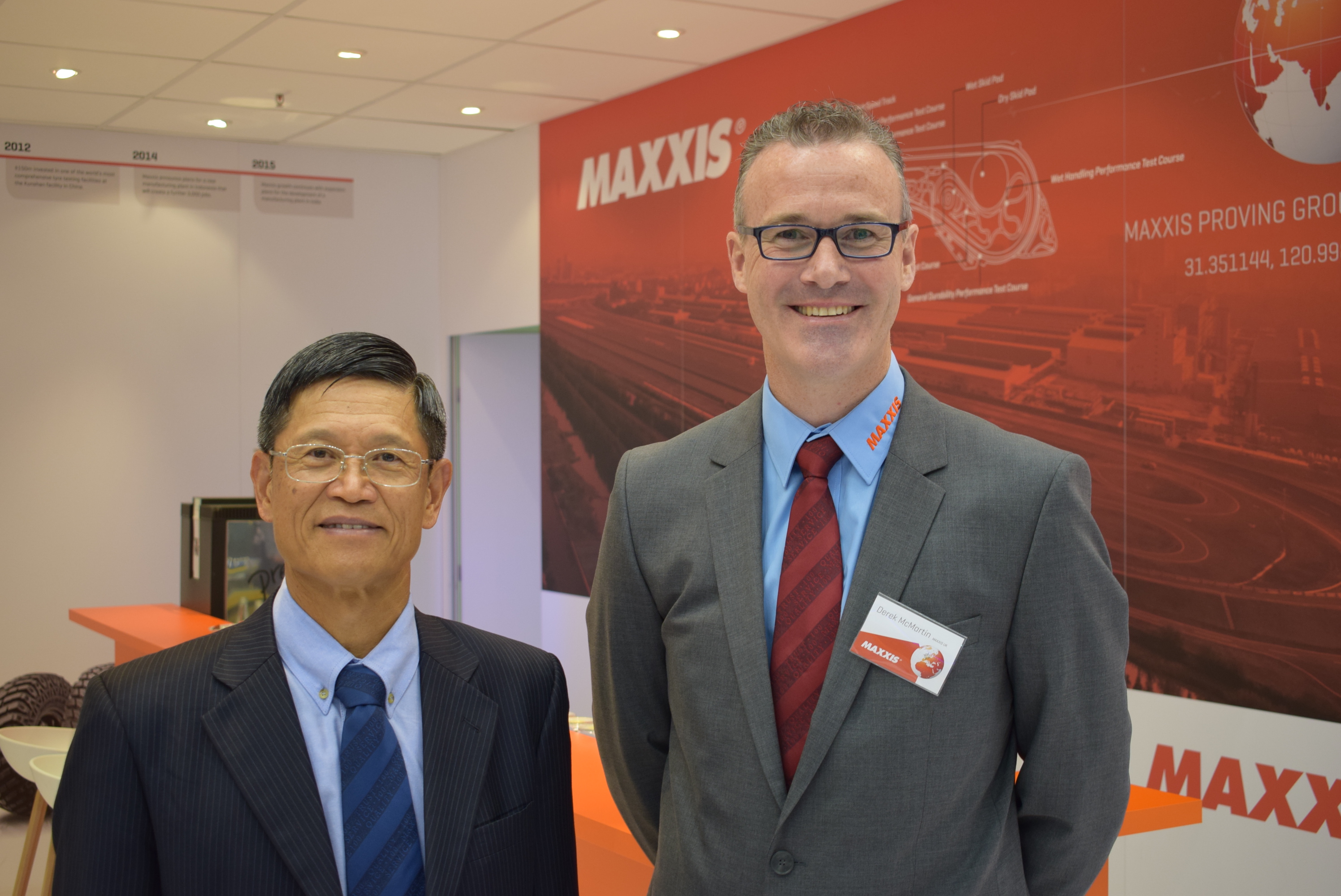 Maxxis exhibited at Reifen from a prominent Hall 3 stand commensurate with the brand's global positioning, and increasingly with its focus on Europe. Robert Lo, chairman of Maxxis manufacturer Cheng Shin Rubber Ind Co and Derek McMartin, managing director of Maxxis International UK explained to Tyres & Accessories that the stand included a portfolio containing the brand's first "dedicated European products".
The new M36+, launched at Reifen, is perhaps the most prominent example of this: "This is our first run-flat for the European market. You'll see more dedicated product for Europe released going forwards," Lo and McMartin explain. Expanding further on the brand's Europe-focused range of tyres, McMartin added, "Runflat tyres are now available in our (European) markets, and all-season tyres are selling very well."
Original equipment business is also a global target for Maxxis: "Major car manufacturers have been testing our tyres, and their performance compared positively with the existing original equipment fitments. We're happy with the progress we're making with vehicle manufacturers, and we now have to work on further promoting our brand image. People will start to take us more seriously when they see us on OE. We can offer original equipment quality but at a better price." Lo and McMartin add that this strategy covers many of the segments for which the company produces tyres, explicitly referring to one of the manufacturer's historically strong sectors: "We want to push this in the two-wheel market."
Geographically, Maxxis continues to be strong particularly in China's OE market, in which Lo states the company's share is 13 per cent. In the country, Maxxis is fitted on such global brands as Ford, GM, Toyota, Nissan, Honda, VW, as well as Chinese vehicle brands. The brand has achieved an enhanced reputation in China recently; the country's leading auto publication, Motor Trend, made the Maxxis Premitra HP5 its 'tyre of the year' in 2015.
One key to this global OE focus has been the global research and development centre in Shanghai, opened in 2012 and expanded in the years since: "You can test everything there, from bike and car tyres through to heavy truck tyres. It can accommodate our entire portfolio."
Maxxis will also bring two new factories online in 2016, furthering its globalised footprint. After starting to erect its plant in Jakarta, Indonesia last year, ground was broken in India in early 2016, and Lo states the factory will be producing by the end of the year. In phase one the factory will produce 27,000 tyres per day using a single Banbury mixer. The plan further ahead is to have four Banbury mixers in operation at the site, giving Maxxis a daily capacity of 108,000 tyres. andrew.bogie@77.237.250.82/stephen.goodchild@77.237.250.82