AlloyGator wheel protectors fitted to UK prestige car hire firm fleet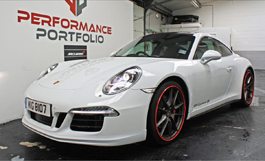 UK supercar hire and on road experience company, Performance Portfolio has fitted the alloy wheel protection system, AlloyGator, to its fleet of luxury cars. Managing director at Performance Portfolio, Alan Gorrie said, "Before we started using AlloyGators we'd had a number of instances where cars had been returned to us with damaged alloys, often because people don't realise how wide the cars are.
"We didn't want our customers' driving experience to be ruined by having to pay out further costs for repairs, so the AlloyGators have been an excellent solution. We use them on most of our cars and have been really pleased with the fit and how they look, so much so that most of our staff now have them on their own cars."
Some of the firm's cars, like the Lamborghinis and Ferraris have been fitted with black rims to give a discrete look that blends in with the car's looks. Models like the company's white Porsche 911 have been given more contrasting colours, like the red AlloyGators, giving them a stylish accent.
Curt Rathbone, managing director at AlloyGator said: "We're really pleased that Performance Portfolio have chosen to use AlloyGators to protect the alloys on their cars and they look great too.
"We've all had that moment where you cringe at the sound of alloys scraping along the kerb, and it's never a nice experience, which is why we developed AlloyGators. They are compatible with most wheel types and combinations so no matter what car you drive you can keep your wheels in great condition."
Made from super-tough nylon, the AlloyGator wheel protectors fit between the rim and the tyre. They are available in a range of 12 colours and can be fitted to wheels 13 inches to 21 inches in size, with a larger size to fit wheels 12 inches to 24 inches to be introduced soon. The product has a network of approved fitters at garages nationwide, and is also available to purchase via the company's website.