UK car manufacturing up a quarter in May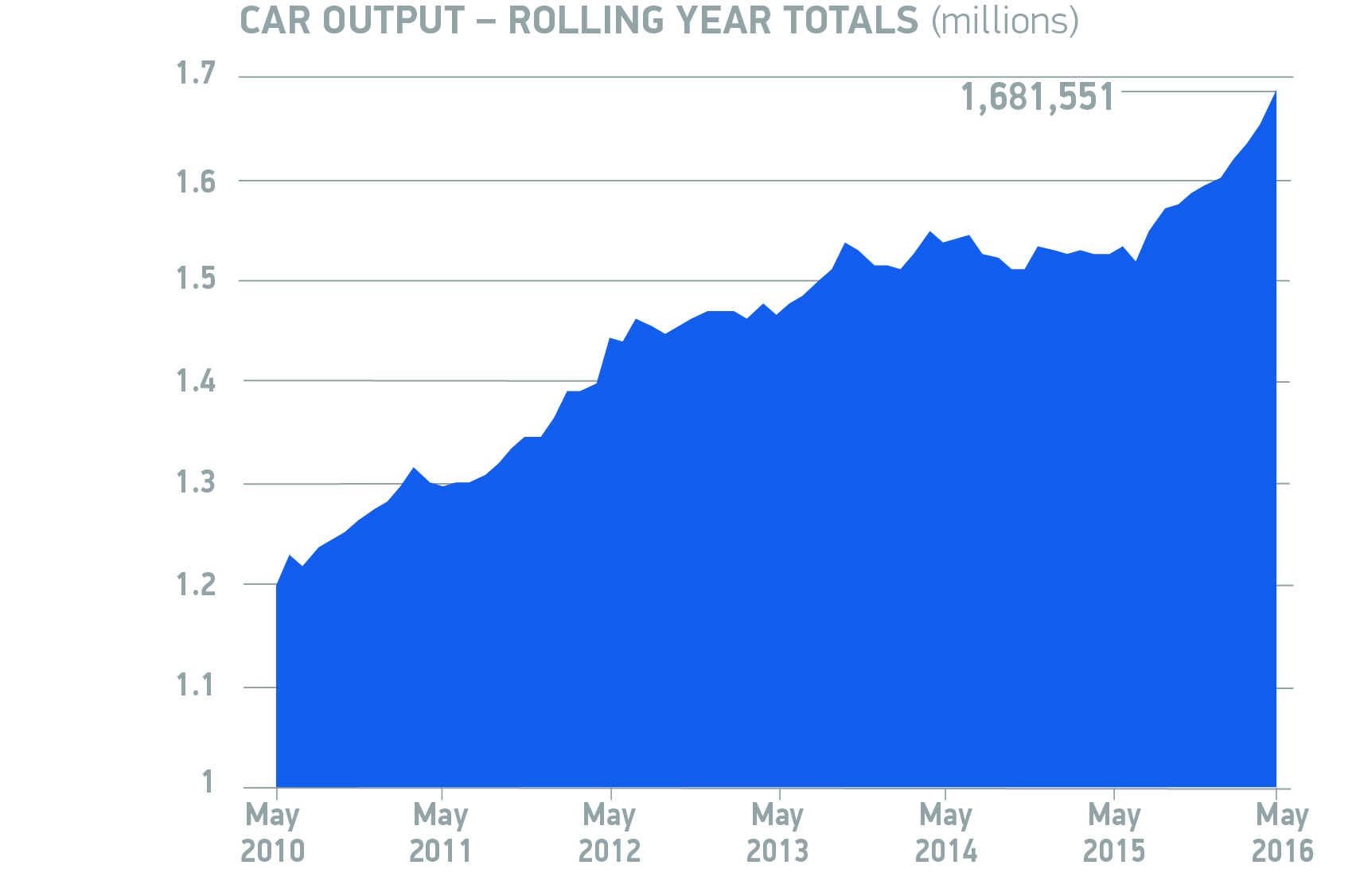 UK car manufacturing output rose by a quarter in May, according to new figures published today by the Society of Motor Manufacturers and Traders. SMMT reports that 150,802 cars were built in the month, a 26.4 per cent jump compared with May last year.
Export growth outpaced domestic orientated output, with the sectors reporting 27.3 per cent and 22.7 per cent increases respectively. May's increase was the biggest since August 2015, which saw a 40.6 per cent increase in output. Production in 2016 so far is now 13.6 per cent ahead of the same period last year. Output was predicted to be high for 2016 due to record investment levels and the launch of several new models across the UK. However all of this was before Britain's vote to leave the European Union.
Mike Hawes, SMMT chief executive, said: "May's performance is another strong month for UK car manufacturing, with demand for British-built vehicles up by over quarter. For this success to continue, we need government to maintain economic stability and help deliver the wider benefits – including free access to our biggest market – which have helped make the sector so globally competitive."
KMPG: Weak pound will fuel growth
Reflecting on the latest SMMT figures, John Leech, head of automotive for KPMG in the UK, suggested the post-Brexit weakening of sterling will fuel continued growth:
"UK car manufacturers will be cheered by these excellent figures that is the product of £10 billion investment over the past 5 years. The UK now produces many internationally acclaimed and successful vehicles such as the Nissan Qashqai, Range Rover and Vauxhall Astra to name but three and, the UK industry has never been in a better position than it is now.
"Sterling has depreciated by 15 per cent since November 2015 and following the Leave Vote, it is likely to remain at these levels and will further bolster UK car production in 2016 and 2017. However, the long-term future of our mass-market car manufacturers is dependent on securing free access to the single market and freedom of movement of people with the EU. It will remain an uncertain time for UK car plants and their workers during the next two years, notwithstanding the positive car production news expected during this time."