Ladbrokes help Bootman put the boot in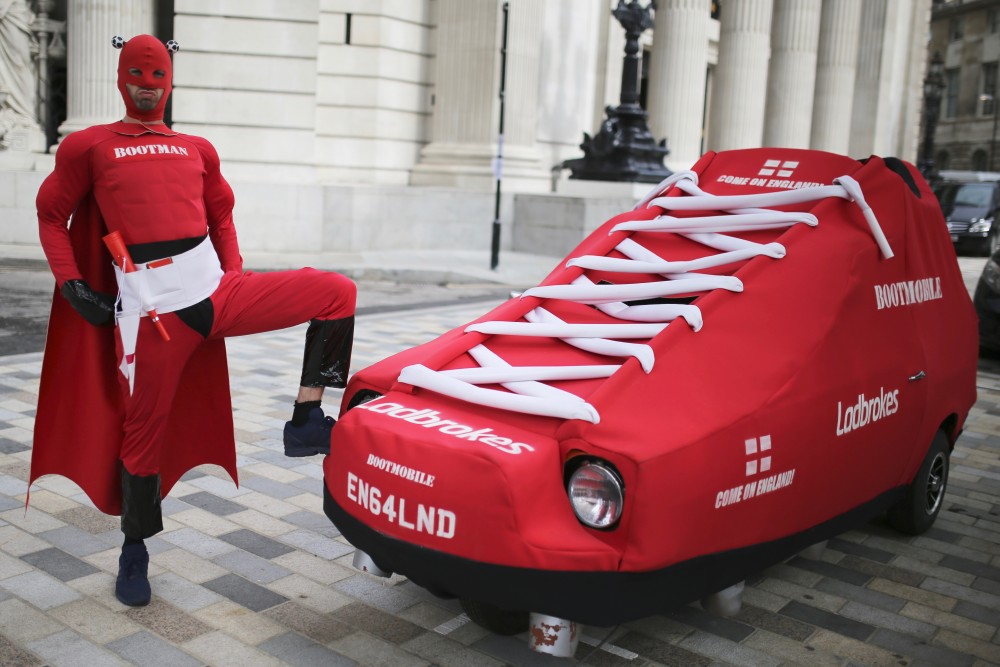 Football fan Nathan Whitfield has had his dream of converting his Robin Reliant into a giant football boot turned into a reality, thanks to a three-figure sponsorship deal from Ladbrokes. Whitfield, 26, self-styled 'Bootman' unveiled his 'Bootmobile' in central London with a message to the England squad that he thinks they're a shoo-in for success in France.
The Bootmobile, an over-sized three-wheel football boot in England colours, features giant laces and integral super-size studs. The sponsorship deal also stretched to a Bootman outfit, with 'Bootility' Belt, specified by Whitfield, that features a vuvuzela, an integral pasty holder, a whistle and red and yellow cards.
At the end of the tournament, Whitfield and Ladbrokes will hold a 'Car Boot Sale' – an online auction of the Bootmobile to raise funds for a kids' football charity.
The sports-mad fan who was born in Hackney and lives in South East London is a car enthusiast. He said: "As a kid, my two obsessions were Playmobile and Action Man, so I guess the Bootmobile and my new outfit combine my two passions."
Alex Donohue from Ladbrokes, said, "We love Nathan's obsession for football and for cars – and the idea that we'll be able to auction the car for a good cause at the end of the Euros makes his, er, obsession a winner."
Mechanically-minded Whitfield, a Manchester United supporter who works as a model maker, said "my friends find my obsession a bit 'exhausting' and I hope they'll give me a 'brake' now that the Bootmobile is a reality thanks to Ladbrokes."
Donohue added: "We have England at 8/1 fourth favourites to win the Euros.  We love Nathan's spirit and optimism.  At auction the Bootmobile could be worth even more if England deliver!"