Goodyear Vector 4Seasons Gen-2 wins Gute Fahrt all-season tyre test, SUV sizes available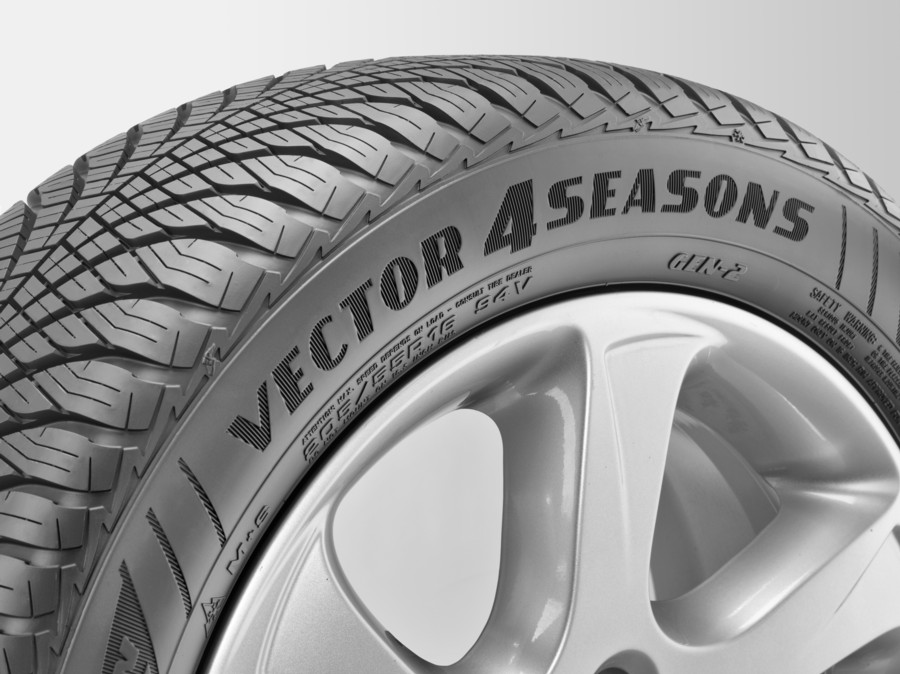 Goodyear's all-season Vector 4Seasons Generation-2 tyre has been awarded the test win in German automotive magazine Gute Fahrt. Receiving high wet and dry grip marks, the tyre was the only tested model to claim the magazine's "Sehr Gut-" (Very Good-) ranking. As of April 2016, the tyre's fitment portfolio has been extended to SUV sizes, as the manufacturer seeks to harness demand for all-season products in the quickest growing market segment.
"We are very proud to be Gute Fahrt's test winner," says Alexis Bortoluzzi, Goodyear's marketing director consumer EMEA. "We have poured our 30 years' worth of all-season market experience into our tyre to take its performance to the next level. As a pioneer in this segment, we are well-determined to remain "unbeatable", to quote Gute Fahrt."
The Vector 4Seasons Generation-2 scored particularly high marks in wet and dry grip, steering angle, and free of load change reactions tests. The test was designed to find the tyre that performed best overall in dry, wet and snowy conditions.
Extension to SUV sizes
The extension of the Vector 4Seasons Generation-2 size range to include SUV fitments was inspired by recent growth between 35 and 40 per cent within the segment, which Goodyear describes as the market's rising star. With safety a primary concern in both this segment and the tyre purchase decision, Goodyear believes its acclaimed all-season product presents a compelling proposition to SUV drivers.
The SUV tyre includes the same characteristics as the passenger car model. It is manufactured with advanced SmartTred plasticiser and increased silica proportion for a better overall performance on wet, slushy and icy roads. The Vector 4Seasons Generation-2 SUV's tread has 3D sipes for enhanced tread stiffness, hydrodynamic grooves for improved aquaplaning resistance, and a solid tread pattern with gradient stiffness for improved performance over the tyre's entire life.
It is currently available in seven sizes, fitting a wide range of current SUV models:
215/65 R16 98 H for the Audi Q3 (post 2011), Dacia Duster, Nissan X-Trail, Nissan Qashqai I & II, Renault Kadjar, Suzuki Vitara, VW Tiguan (2007-15)
225/65 R17 102 H for the Honda CRV III (from 2012), Land Rover Evoque, Discovery Sport (from  2015), Mazda CX-5, Nissan X-Trail (from 2014), Toyota RAV IV (2006-12 and from 2013)
235/65 R17 XL 108 V for the Audi Q5, Jeep Cherokee, Hyundai Santa Fe (from 2006), Kia Sorento, Discovery Sport (from 2015), Mercedes GLC (from 2015), Mercedes R-Klasse, Mercedes ML-Klasse (from 4Q2011),  VW Touareg I+II, Volvo XC60, Volvo XC90 (pre-2014)
225/60 R17 99 V for the Hyundai iX 35 (2010-15), Hyundai Tucson (from 2016), Jeep Cherokee (from 2014), Kia Sportage (from 2010), Mitsubishi Outlander (from 2007), Nissan X-Trail (from 2010)
235/60 R18 XL 107 V for the Audi Q5, Audi Q7, Jeep Cherokee (from 2008), Hyundai Santa Fe, Hyunday iX45 (from 2012), Kia Sorento II (from 2009), Land Rover Evoque, Land Rover Discovery Sport (from 2015), Mazda CX-7, Mercedes GLC (from 2015), VW Touareg I (until 10), Volvo XC60, Volvo XC 90
255/55 R18 XL 109 V for the Audi Q7, Kia Sorento II (from 2012), Mercedes R-Klasse, Mercrdes ML-Klasse (from 2Q2011), VW Touareg (from 2010)
235/45 R19 99 V for the Audi Q3 (from 2Q2011), Audi A6, Ford Kuga, Mercedes GLA, Volvo S/V60 CrossCountry (from 2015)