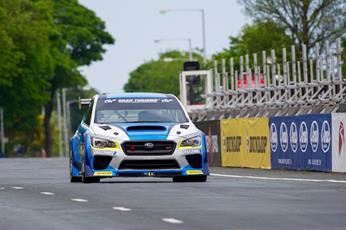 Mark Higgins helped Dunlop and Subaru set a new four-wheel record on the Isle of Man TT Mountain Course
While Michael Dunlop was busy making history on Dunlop, the tyre brand also saw new records set on four wheels. Running on medium compound Sport Maxx BTCC race tyres, triple British Rally Champion Mark Higgins beat the previous record for a car around the Isle of Man TT Mountain course.
Dunlop teamed up with another of the event's partners, Subaru, in a bid to break the record it helped set in 2014, when Higgins took a Dunlop road tyre-shod Subaru to a record-breaking 117.510mph (189.114kph). On Saturday, on its first competitive run around the course, they shaved nine seconds off the lap, with a time of 17m 49.75 seconds, an average speed of 126.971mph (204.34kph).
The Subaru WRX STi time attack car, jointly developed by Subaru of America and Prodrive, will attempt another run around the course today, with the main focus on smashing the record further on Friday's Senior TT day.
Mark Higgins: "Saturday offered ideal conditions and we were delighted to do the time we did on the first run, which was more than we ever expected. I had a dream of doing 125mph in my head, so to do near on 127mph straight away was a really good start. The Dunlop grip level was really good, we used the same tyre for the practice run and the main run, which was a surprise as we expected to put new tyres on every time. The performance is really good and it seems very consistent.
"Over the mountain was good. It's always tricky, you think you know it, but there are always bits that catch you out. Although you're going fast on closed roads, it's another matter doing it at 160-170mph (260-270kph). We've got another run today, but it's very hot, which won't help us in terms of tyre or engine temperatures. We've changed the set-up on the car, we've gone harder and made a few tweaks, ride-height too, but the car's not a million miles away. We can turn it up a little bit, but we'll perhaps leave that until the very end!"
Category: Motorsport