Winntec to present 'groundbreaking' garage equipment trio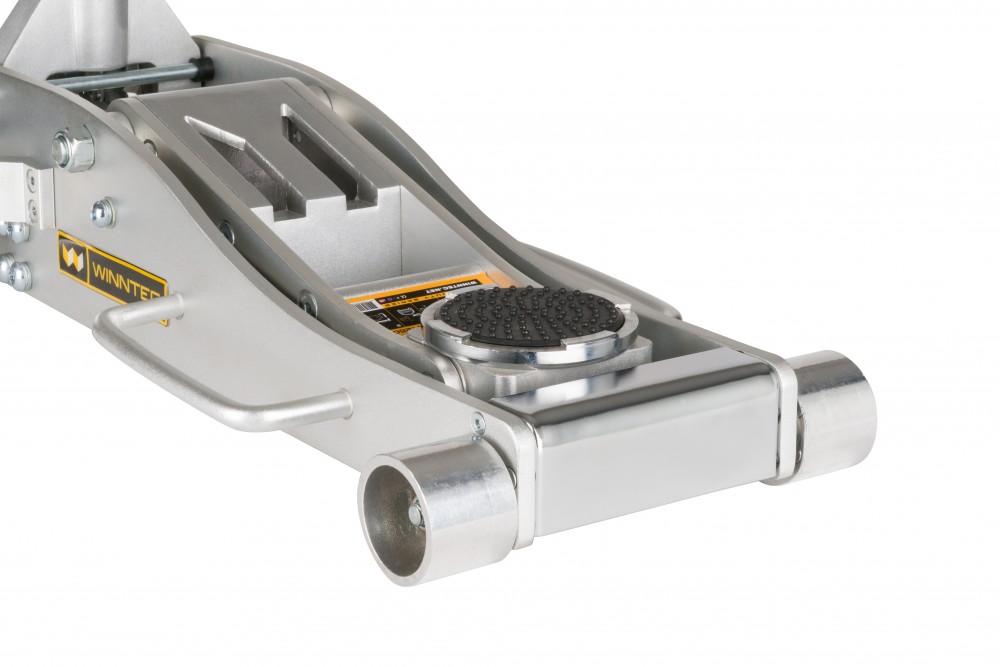 Dutch garage equipment manufacturer Winntec will showcase a series of new additions to its growing product portfolio from its booth (Hall 1, B19) at Reifen 2016. The Winntec Y412500 2.5 ton aluminium floor jack combines a futuristic design with Winntec's Turbo Lifter pumping technology. Its latest jack, the Winntec Y420330, features a compact yet fully functional design, while an upgrade to Winntec's Wheel Assist will increase the range's functionality, the company states.
Winntec's slogan – "fast to the load – fast with the load" – is embodied by the Y412500's new features. The floor jack features a solid rubber saddle pad that increases protection for the operator when lifting a vehicle along with thick frame side plates. A multiple-reinforced lift arm also adds reassuring maximum strength and safety while dealing with heavy loads up to 2.5 tons. The low profile jack also has heat-treated chromed pump pistons and main ram, as well as a foam handle bumper to effectively protect a vehicle's doors when lifted in confined spaces. With low entrance height and weighing just 25kg, the Y412500 provides professional jacking for the majority of cars and light commercial vehicles during road assistance service jobs.
The Winntec Y420330 jack has been specially manufactured and configured for car dealers and all types of workshops and incorporates noise reducing PU wheels, a rubber saddle grip and the turbo lifter pump system. A special release valve allows the convenience of controlled lowering of heavy loads. Both the ram and pistons are chrome plated for a professional finish. Winntec says the jack will be priced competitively, though industrial grade seals and gaskets have been used to increase its quality, and, the company hopes, to ensure that the product will prove to be extremely popular within the market sector.
Finally the all-new Winntec 472260 ERGO+ upgrade kit for its Wheel Assist product range will significantly increase maximum height levels and further improve manoeuvrability on uneven, bumpy work-floors and narrow spaces.
All three of Winntec's new products will take centre stage on the Winntec booth (Hall 1 B19) at Reifen 2016. A team of Winntec staff will be on hand throughout the event to demonstrate and answer questions to interested visitors.